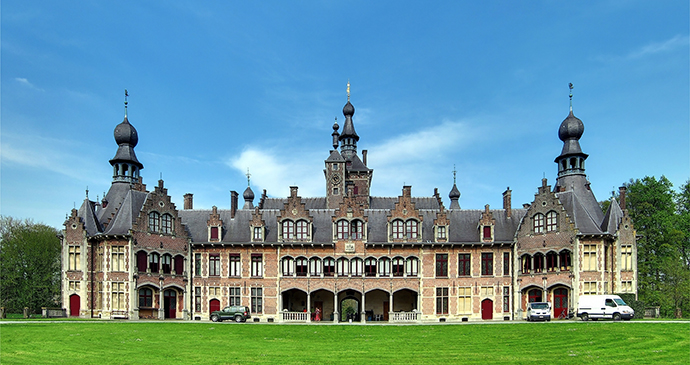 Ooidunk and its gardens are a joy to explore © Velvet, Wikimedia Commons
Surrounded by a moat and rich woodland, Flanders' most beautiful castle has lovely gardens and a collection of period furniture and tapestries.
People come from far and wide to visit Flanders' most complete, and beautiful, castle. Surrounded by a moat and rich woodland, Ooidonk Castle once belonged to Philippe II de Montmorency-Nivelle, also known as the Count Hoorn, who was executed on Brussels's Grand-Place alongside Count Egmont for resisting Spanish rule. The castle suffered extensive damage during the religious wars of 1579 and was rebuilt in the Flemish-Spanish style you see today. You're free to wander the lovely gardens all week, but the interior is only open at weekends because the current owner, Henri t'Kint de Roodenbeke, still lives in the castle. Its collection of period furniture, paintings, tapestries and silver is sumptuous.
While in the area, we highly advise stopping off for creative Flemish classics at restaurant Bachtekerke, whose tree-lined terrace on the banks of the Leie river was voted the best in Belgium by Gault&Millau in 2018.