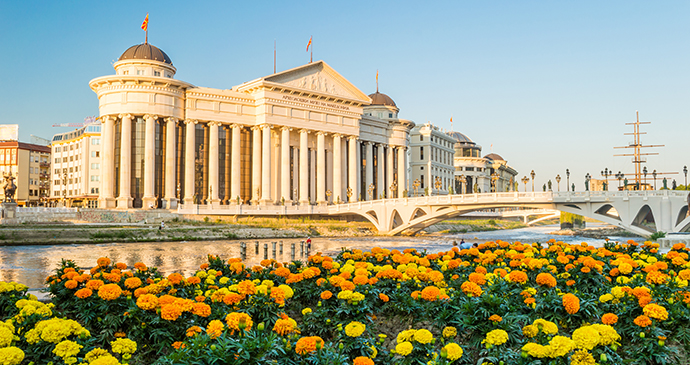 Housed within one of Skopje's most impressive buildings, the Archaeological Museum of Macedonia shares its home with the Supreme Court and National Archives © Andrii Lutsyk, Shutterstock
A city of many cultures, Skopje is worth at least a couple of days' exploration.
The capital of North Macedonia and main port of entry to the country, Skopje is an up-and-coming city whose population of 550,000 represents more than a quarter of the national total. It boasts a strategic location on the River Vardar and has been an important centre of regional trade for several millennia, as evidenced by the presence within the city limits of archaeological sites dating back to Neolithic, Roman and Ottoman times. The Vardar divides Skopje into a predominantly Muslim northern half and predominantly Orthodox Christian southern half. Most government offices, hotels and shopping malls can be found south of the river, along with the railway station and main intercity bus station.
A city of many cultures, Skopje is worth at least a couple of days' exploration. The main attraction is the old Turkish quarter known as Čaršija, which lies to the north of the river below the imposing Kale Fortress, and houses a large daily bazaar, several Ottoman architectural landmarks, and a small but buzzing café and nightlife scene. The city also boasts a varied selection of museums, art galleries and archaeological sites, ranging from the recently opened Archaeological Museum of Macedonia and Holocaust Memorial Centre to the Roman-era ruins at Skupi and reconstructed Neolithic village of Tumba Madžari. Further afield, don't miss out on the cable car up Mount Vodno, the rare Byzantine frescoes in the 12th-century Church of Sv Pantelejmon, and the spectacular lake set within the sheer cliffs of the Matka Canyon.