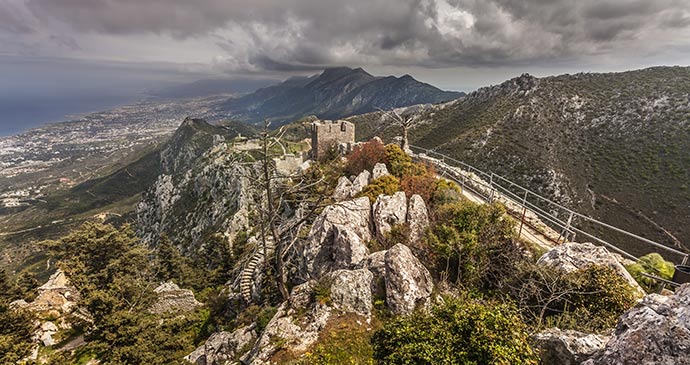 © Cortyn, Shutterstock
Perched on the Kyrenia mountain range, this castle was the inspiration for the one in Disney's Snow White and the Seven Dwarfs.
This castle and royal summer palace make an exciting and mildly strenuous half-day trip from Girne. Dieu d'Amour was the name the Frankish knights bestowed upon it, and certainly from afar its extravagantly crenellated walls and towers tumbling over the craggy hilltop evoke a fairytale vision of bygone chivalry. From within, the paths and steps wind up through the three castle sections, one superimposed on the other, and culminating in the royal apartments ingeniously sheltered in their own natural courtyard of rock. Rose Macaulay, author of The Towers of Trebizond, described it as 'a picture book castle for elf kings', and Walt Disney is said to have used it as inspiration for the palace in Snow White and the Seven Dwarfs.
Disparaging comments are often made about the paltry nature of the ruins at Buffavento, along with jokes about its name 'buffetted by the wind' meaning that everything on the summit has been blown away. Yet the ascent to Buffavento, because of the terrain and the stupendous location, makes if anything an even deeper impression than the other two Crusader castles, and the wonder is how anything was ever built up here at all.