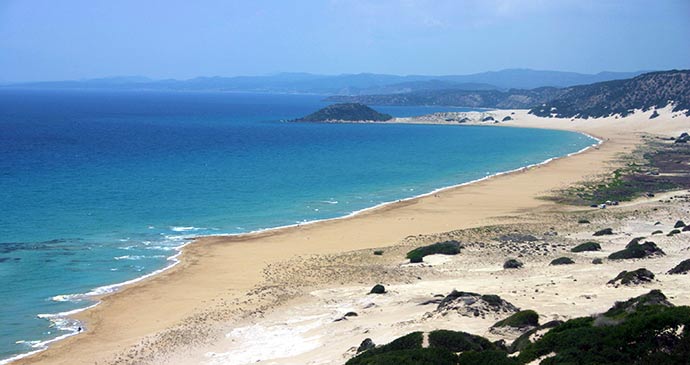 Golden Sands Beach © North Cyprus Tourism Authority
In such a peaceful, slow-paced region, it would be a shame to rush.
The Karpas has been called the nature reserve of Cyprus, with abundant wildlife and flowers, as yet still relatively untouched by encroaching development. Remote and isolated by virtue of its geographical position, it holds itself apart from the rest of the island, and almost feels like a different country. If you set out to find tranquillity in North Cyprus, then you'll find it here or not at all. It takes at least two days to explore the Karpas properly, but if you're seeking a break from the crowds and you can live without the trappings of luxury, there's no reason why you can't base yourself here for longer. Some of the establishments offer walking trails, bike hire, cooking classes or an introduction to village handicrafts. In such a peaceful, slow-paced region, it would be a shame to rush.
Using the old north coast road east of Tatlısu as far as Kaplıca will allow you to pick your own swimming spot; similarly, the short stretch of tarmac between Ayios Philon and Aphendrika has a few tracks that head for the sea and some beaches (which in low season will be yours exclusively). The waters are crystal clear, though there may be a bit of rubbish and eelgrass washed ashore. The southern coastline of the Karpas also has many beaches, often sandy, but most are difficult to reach and have no amenities. Their remoteness will be an attraction for some, a deterrent for others. The most magnificent stretch of all lies close to the tip, a few kilometres before the Apostolos Andreas Monastery. It is known as Golden Sands (though the wild dunes often look more red than golden) and is a major nesting ground for sea turtles. It is marred only by tar and accumulated sea debris. The far tip of the peninsula itself is rocky and swimming is very tricky.