With its mountain setting, Gothic archways and sense of tranquillity, Bellapais Abbey is truly enchanting.
The beauty of Bellapais is legendary; when Lawrence Durrell bought a house here, he felt 'guilty of an act of fearful temerity in trying to settle in so fantastic a place'. Set in the foothills of the Kyrenia Mountains just ten minutes southeast of Girne, the mainly 13th-century Crusader abbey is a must-see during any stay in North Cyprus. A well-timed, early morning visit to avoid the crowds will allow you to fully soak up the tranquillity and enjoy the panoramas over Girne.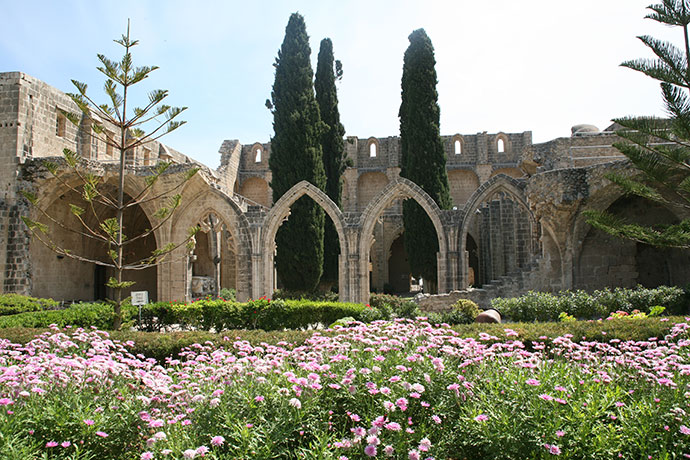 © North Cyprus Tourism Authority
At least two hours should be allowed for the visit, starting from Girne, and the most special time is sunset, when the place is alive with the glowing silhouettes of arches. 'The dawns and the sunsets in Cyprus,' wrote Durrell, 'are unforgettable – better even than those of Rhodes which I always believed were unique in their slow Tiberian magnificence.' Durrell himself would frequently see the dawn, for when he ran out of money for renovating his house, he took a job teaching English in a Lefkoşa school which meant he had to get up at 04.30.
'Bellapais' is actually a corruption of 'Abbaye de la Paix', or Abbey of Peace. Although its precise origins are obscured in the mists of history, the abbey was probably founded at the very beginning of the 13th century, although Bellapais was a significant site of habitation even in Roman times. Major additions were made to the structure in the 14th century. When making the 5km drive from Girne through olive and carob groves and ever-increasing development, few are prepared for the vista that hits them as they round the last corner before Bellapais village. There, rising up from the mountain on its natural terrace, like a mirage, is the Gothic masterpiece of the island, and indeed of all the Levant. Rarely has a place so lived up to its name, for this remarkable abbey is imbued with a sense of tranquillity and peace so powerful it is almost tangible. The road winds through the narrow streets of Bellapais village to reach the tiny square in front of the abbey. From here the path leads in from the ticket kiosk past the main entrance of the church (see page 80) to the abbey enclosure through a pretty and colourful garden, to what was once the abbey kitchen, and is now a restaurant and café, tastefully tucked into the side and with excellent views of the abbey and down over the coastline. In the abbey courtyard, the fine pencilled cypress trees, 'emblems of grief and eternity' as eminent travel writer Colin Thubron called them, were planted only in 1940, but now they are home to hundreds of sparrows whose incessant chirping is sometimes the only sound to greet you as you enter.