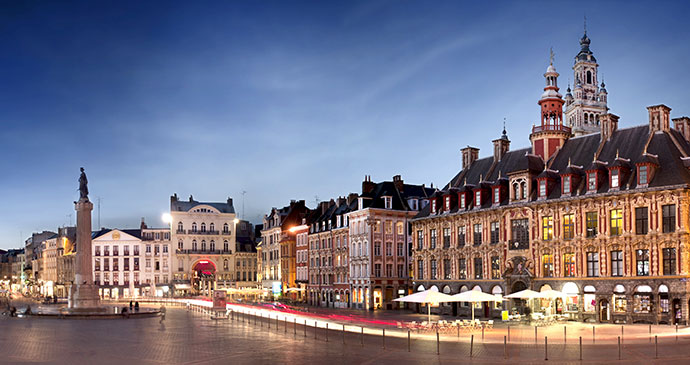 © Production Perig, Shutterstock
But then, now and always, Lille is surely the unchallenged capital of serendipity.
It was a Sunday evening. Summer had already surrendered to the anticlimactic half season prologue to autumn and Lille lay between excuses. A rare weekend with no festival, no season, no theatre. And it was raining.
I had only just completed the third edition of my Bradt guide to the city and was contemplating the heresy that Lille held no more teasing for me, when I looked up and stared across the uncharacteristically empty squares. Yellow syrupy pools of lights that slipped from glistening gable to bright washed cobbles lured me across the place Général de Gaulle towards the inexcusably beautiful Vieille Bourse. The sounds of music filtered through, echoing cracked shellac tones of a long forgotten crooner at 78rpm and from the Renaissance arched doorways escaped the unmistakable Latin sound of the tango. Long shadows sliced the glow from the cloisters and I prowled around the building, looking for an open door. From the place du Théâtre I stepped up and through the entrance to Bourse, Lille's timeless Rialto for bibliophiles and chess players.
Before me was movement, the seductive synchronicity of backs arching, toes pointing forward then sliding up close, calves pressed, waists pulled, shoulders shrugged, and eyes locked in concentrated complicity.
A great bearded bear of a working man in heavy plaid woodsman's shirt lumbered rhythmically and steadily through each stride and turn of the dance, while his whisper-waisted partner, hair a pre-Raphaelite tumble of curls, neatly picked her way around his strides, turning his bulk into gallantry. For me, this is the spirit of Lille. In a city defined by youth this was in fact and deed, a genteel coup of measured effusion, sagesse and experience over unrefined jeunesse and exuberance. It was that self-same spirit that greeted me on my first visit two decades earlier when strangers welcomed me to estaminets and bars and a museum curator shared scandalous gossip about artists and heroes past.
But Lille is not just about heroes – it is defined by its people. Whether they be hordes of merrymakers at the grand festivals, carnivals and parades under the midsummer sunshine, a hundred thousand students bent on changing the world, or the marriage of stilettoed society and barefoot Bohemia in the measured maelstrom delicately turning and tripping through the Vieille Bourse in the modest Sunday evening ball with one last dance under the stars of a freshly rinsed clean indigo sky before bedtime.
And so, I headed back to the métro having learnt the happy lesson never to take the city for granted.