A huddle of shops and a maze of alleyways, within a close-knit grid, Le Touquet is dominated by the horseshoe-shaped market hall, its moon-shaped entrance framed by wooden gables.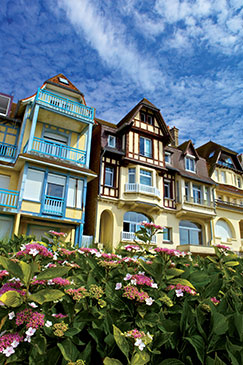 Some say the old girl's lost it. She's old hat, a fading star – suburban even – superseded by swanky jetset resorts where the showbiz rich top up their tans. Statistics prove otherwise. Forget the lack of sun, the windswept dunes and the sometimes long haul to reach the receding seashore: Le Touquet has been, still is – and probably always will be – the place where it all happens. It has everything from sporting activities, of which there are now around 40, to a legacy of unashamed opulence symbolised by the tree-lined avenues of oh-so-British style villas and the four-star splendour of the Westminster Hotel. Portraits of the glitterati of the 1920s, the glory years, hang here alongside those of the new moneyed of the postwar era. A young Sean Connery signed up to his first James Bond film at the Westminster. Winston Churchill was another guest; so, too, were Marlene Dietrich and Edward and Mrs Simpson.
And though the faces may change, Le Touquet retains a swagger which still attracts those bent on seeking, if not quite the hedonistic lifestyle of the early 20th century, at least a highly passable alternative. British drivers predominate at the resort's golf courses, while their fellow compatriots – quite often their wives! – head for the generous selection of specialist food and clothes shops, indulge in watersports or simply stroll along the prom with its usual family-friendly paraphernalia. Le Touquet is a lucky dip of a place, not perhaps to everyone's taste – too English, some say, too racy, even raucous, argue others – but, with 1,200 rooms and some 60 restaurants, her pulling power is as strong as ever.
(Photo: Popular with both rich Parisians and architecture lovers, Le Touquet plays host to many luxury hotels © www.pas-de-calais-tourisme.com)