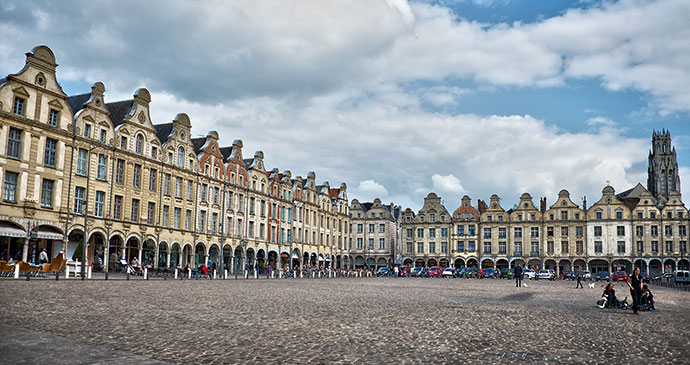 Arras is a city in overdrive — a city of culture and entertainment. © Delpixel, Shutterstock
La Belle France is one of the most attractive cities close to Calais. It is also the hub for visiting the nearby World War I battlefields.
Arras can conjure up more contradictions than a Harry Potter plot – take those glorious gabled buildings in the cobbled twin squares. They are replicas of the original 17th- and 18th-century timbered buildings which, thanks to a French restoration law passed in 1919, were faithfully rebuilt in brick and stone in the same style after being laid to waste in World War I.
Below ground lie the town hall cellars – part of the hidden world of the 10th-, 15th- and 16th-century limestone quarries on which the whole town is famously built. Not bad for a place which bounced back from World War I devastation to become one of the best-loved towns in northern France, attracting vast crowds to the squares with their café culture and specialist shops. Arras's Christmas fair, too, is now rated one of the best north of Paris.
This, and an almost stubborn belief in its cultural and economic role from Caesar to Arras-born Robespierre, has seen the town emerge not just as capital of the Pas de Calais Artois region, but as an elegant tourist centre with a fresh batch of hotels being built to meet demand, not least from the British.
Major exhibitions at the Fine Arts Museum and a varied programme of contemporary music and art events at the renovated Italianate theatre have likewise upped the ante in the cultural stakes. So, too, has the town's easy-going nature, helped by students from the 12,000-strong university.