Several kilometres northwest of Danilovgrad, it's just about possible to detect a white speck grafted into the grey, vertiginous rock face on the opposite side of the valley. In a setting that is as unforgettable as it is improbable, this is Ostrog Monastery, Montenegro's most important place of pilgrimage.
Although it's possible that the monastery's initial foundations might have been laid by hermits some time earlier, Ostrog was officially founded in the mid 17th century by Vasilije Jovanović, more commonly known as St Basil of Ostrog.
Ostrog actually comprises two complexes, the first of which, the larger lower monastery, is centred around the Church of the Holy Trinity, built in 1824, and is also the location of the majority of the monastic residences, including the modern konak. The white, rock-hewn upper monastery, a tough little 3km walk uphill (but also accessible by car), holds two diminutive cave churches, one of which, the Holy Cross, features some splendid rock-painted frescoes by the great 17th-century Serbian artist Radul, depicting revered saints (including St Sava and one of St Basil), scenes from the life of Christ, and religious holidays.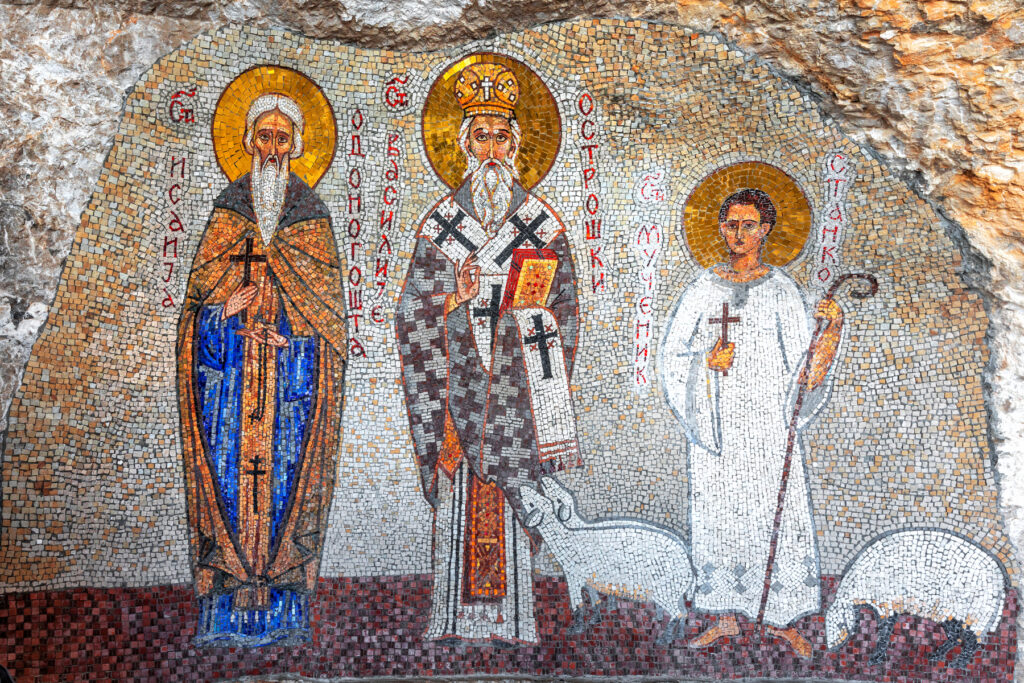 Nearby, the Church of the Presentation keeps the relics of St Basil. In truth, there's not an awful lot to see here, but the tight corridors and passageways of the monastery, lined with icons and mosaics, are certainly atmospheric, and on a clear day the views from the small terrace fronting the upper monastery entrance are fabulous. During the summer it's best to visit as early or as late as possible in the day in order to avoid the inevitable crush of visitors.
Getting to Ostrog
Ostrog is reached via a road that turns off at the village of Bogetići, itself some 20km along the main road from Danilovgrad. From here it's around 8km to the monastery up a narrow and often precipitous asphalt road, which can be tricky to negotiate in parts, especially when confronted with one of the many coaches that somehow crawl to the top.
If you don't have your own wheels (and don't fancy the extremely strenuous walk), then pick up one of the taxis that wait down by the main road to take you up to the monastery (about €15 return). If travelling on the Podgorica–Nikšić bus, ask the driver to set you down by the village.
Trains from Danilovgrad and Nikšić stop at Ostrog station, some 4.5km south of the monastery. There's no public transport from the station and it's a fairly punishing hour-long walk to the lower monastery, though you could always try and hitch.