Covering an area of 54km² across the central part of the Bjelasica mountain range in between the Lim and Tara rivers, Biogradska Gora is the smallest of Montenegro's five national parks, designated as such in 1952 having been placed under special protection by King Nikola as long ago as 1878. It boasts a wonderfully diverse spectrum of flora and fauna, including red and roe deer and some 150 types of bird, such as eagle and buzzard, as well as more than 200 species of plant, many endemic.
Its most celebrated natural assets, however, are its five glacial lakes – by far the largest of which is Biogradsko – and a large expanse of virgin forest, one of the very few surviving ancient woodland areas in Europe. Although the majority of visitors come to the park to enjoy the lake and its surrounds, there's some excellent hiking to enjoy within and just beyond the park boundary, and some marked trails for mountain biking too.
Hiking in Bjelasica
While it may not possess the high peaks of the Durmitor, there's some lovely hiking to be had throughout the Bjelasica mountain range, with a series of well-marked paths and trails criss-crossing this green and delightfully picturesque landscape. A particular appeal of walking here is the mountains' accessibility, with easy access via any number of towns that ring Bjelasica, such as Berane, Kolašin and Mojkovac. The best time to undertake these is between May and September.
From Mojkovac, one of the best hikes is the fairly straightforward one south to Biogradska Lake, via Bjelojevice and the Laništa katun (1,405m; 3–4hrs), while another (circular) tour takes in the Brskovo Valley via the Džambas (1,438m) and Brskovo (1,199m) huts, a moderately easy hike of around 6 hours. This latter trail gives you the opportunity to stop overnight at one of the huts, useful if you plan to extend this walk and combine with another, longer trail, for example from Džambas to Mount Turjak (1,912m) or from Brskovo to Mount Bjelogrivac (1,970m), from where you can reach the Siško Lake.
A pleasant walk from Berane on the eastern fringes of Bjelasica begins at the Đurđevi Stupovi Monastery, from where a part-tarmac, part-gravel track ascends through a lovely valley to the hamlet of Crni Vrh and then on towards Siško Lake (via Katun Strmenica; 6hrs) which lies just inside the national park. From here, you can continue to Mount Razvršje (2,033m), whereupon the trail descends steeply to the Biogradska Lake. There are also several trails from the lake itself, the most enjoyable of which is a circular route via Mount Bendovac (1,774m), from where there are fabulous views back over the lake, and Mount Razvršje, a fairly strenuous round-trip of some 6 to 7 hours.
Another very scenic hike, taking in two of Bjelasica's highest peaks, namely Zekova Glava (2,117m) and Troglava (2,072m), begins at the hamlet of Raskrsnica (located near Kolašin and accessible by car) in the park's southern periphery, passing by the Eco Katun Vranjak, where there are over a dozen huts for hire and the Bjelasica mountain hut on the way. Most mountain huts are usually open between May and September, but it's always worth ringing in advance just to check. You might want to consider getting hold of the Mountains of Bjelasica guidebook, produced by the local tourist organisation, which outlines numerous routes throughout the range, and the 1:60,000 Bjelasica and Komovi map; both are available from the tourist office in Kolašin. There's also Rudolf Abraham's The Mountains of Montenegro, which gives details of a hiking route across the national park from Bjelasica to Komovi.
Biogradska Lake (Biogradska jezero)
The largest and most enchanting of the park's five lakes is Biogradska (altitude 1,094m, length 1,100m, average depth 4.5m), a shimmering body of deep-blue water ringed by thick banks of pine and fir. It's encircled by a 3km-long pedestrian path, which should take no more than a leisurely hour or so to walk.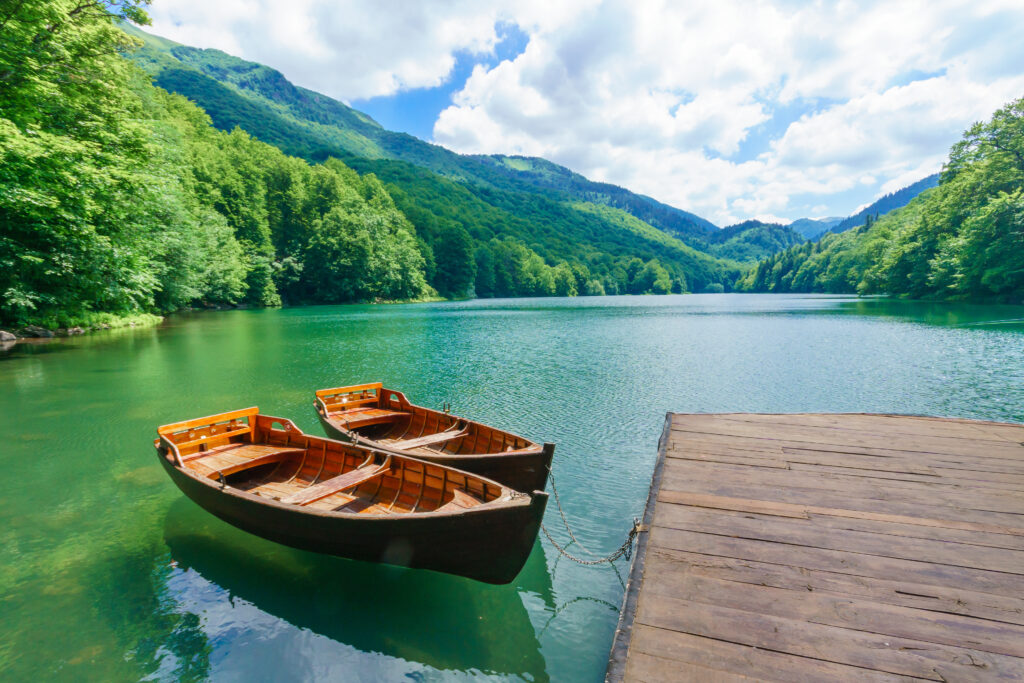 There are plenty more activities to participate in, though, with possibilities for cycling and messing about on the water. If you've got a few moments to spare, pop your head into the visitor centre's little exhibition, which mainly concentrates on the park's flora and fauna, though there's also an enlightening section on life in a katun.
Getting to Biogradska Gora
The entrance to the national park is at Kraljeva Kola, by a dedicated bridge east over the Tara River from the main Mojkovac–Kolašin road, 5km from Mojkovac and 15km from Kolašin; it's here that you must pay the park entrance fee (€3 pp). From there it's a further 4km along a minor road to the national park visitor centre and lake itself.
There is no public transport to the park but buses from Mojkovac and Kolašin will stop at the turn-off to the national park if asked. Taxis can be arranged from Mojkovac and Kolašin. Note that minibuses are often arranged for groups staying in Mojkovac and Kolašin, so ask around if that's where you're based.