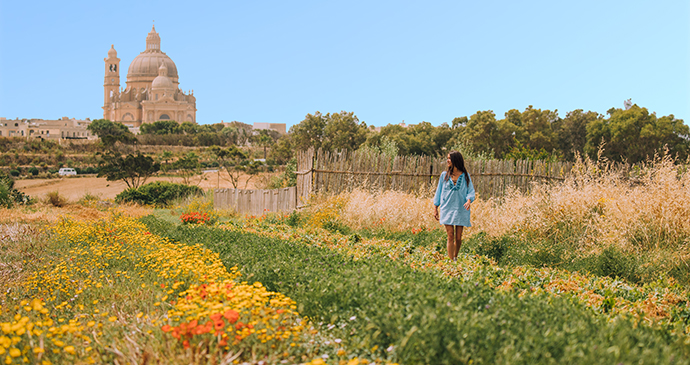 Gozo is undoubtedly more rural than its larger neighbour © Visit Malta
Gozo feels so much more relaxed than Malta. The two islands may be part of the same country and a mere 6km apart, but their atmospheres are completely different.
Arriving in Gozo (Maltese: Għawdex, pronounced Owdesh), you may find an involuntary sigh passing your lips as you leave the port and head for open country. For all its holiday reputation and patches of beautiful landscape, Malta is a busy place; Gozo is more rural and much more laid-back. Residents say it runs on GMT – Gozo Maybe Time – but in fact timekeeping is not significantly more wayward than on Malta. Gozo just feels so much more relaxed. The two islands may be part of the same country and a mere 6km apart, but their atmospheres are completely different.
The Maltese tell some of the same jokes about the Gozitans that the English tell about the Irish, and traditionally life has been tougher on Gozo. But plenty of Gozitans seem to do very well for themselves on Malta – returning at weekends to their lovely unspoilt island. Some Gozitans go further afield and you will find houses on Gozo called 'God Bless Australia', 'House of Canada' or 'Old Glory USA' – there is even a model kangaroo outside a house near Calypso's Cave – all in gratitude to the nations where the owner earned the money to build or buy the house.
Gozo is only 7km by 14km and has been largely bypassed by the rush to mass tourism that has blighted parts of Malta. There are a few patches of unrestrained building (particularly in Marsalforn) but there is plenty of Gozo that is unspoilt. It is more like Malta was a few decades ago – although the landscape is different. Gozo is made up of small flat-topped hills divided by fertile valleys – green even through most of the summer when Malta goes brown. Wild fennel (with its typical aniseed smell), caper bushes, carob and oleander are common sights along with the omnipresent prickly pear.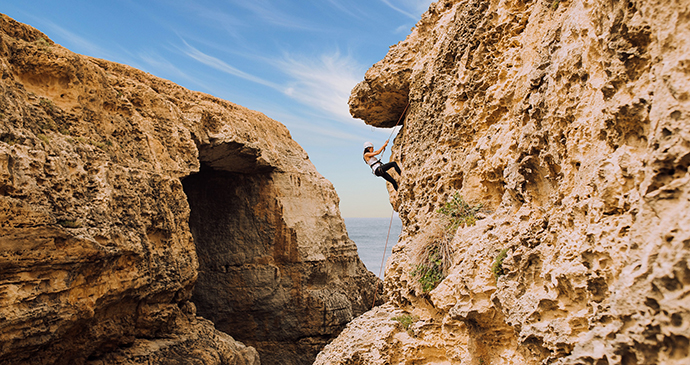 Outdoor activities abound on Gozo © Visit Malta
Church bells ring out over terraces of hillside agriculture and traditional limestone villages, at whose heart is usually an attractive square (sometimes actually a triangle). The square is dominated by an oversized church, often accompanied by a tiny police station marked with a traditional British blue lantern, a red phone box and sometimes an old-fashioned British red letter box built into a yellow limestone wall. Many villages have a café and a village shop on or near the square and you may even see an elderly lady sitting on her doorstep making lace.
If you fly over Gozo (which some international flights do) it looks like a cardboard cut-out, so sharply defined are its sheer cliff edges, especially on the northern side. Edward Lear visited the island in 1866 and wrote, 'I drew every bit of it, walking fifteen or twenty miles a day – its coast scenery may truly be called pomskizillious and gromphiberous, being as no other words can describe its magnificence.' He also started a poem, 'Gozo my child is the isle of Calypso', referring to Gozo's identification with Homer's island where the hero of the Odyssey spends seven years under the spell of the loving sea nymph.
Gozo has a couple of beautiful red-sand beaches and a multitude of rocky bays and inlets with inviting clear blue water for swimming and snorkelling, as well as some of Malta's (and even the Mediterranean's) best dive sites. And if the wind blows on one side of the island, ruining the swimming and diving, you can hop the few kilometres to the other – or find an inlet facing the other way – and you will probably find calm, welcoming waters.
There is history here too, of course. One of the oldest temple complexes, Ġgantija (after which the first temple phase is known) sits on a high plateau with commanding views of the Gozo countryside. The Citadel in the capital Rabat (or Victoria) is a mini Mdina, a tiny, impressively-walled medieval city, first fortified in the Bronze Age and refortified by every occupier of Gozo since.