Malta's prehistoric temples, built 3800–2350BC, are unique. There is nothing like them anywhere else in the world and nothing built this early comes close to their sophistication. If you would visit Stonehenge or Mycenae, then don't miss the temples of Malta.
Malta's other main claim to fame – and far better known – is the art, architecture and fortifications of the Knights of St John. A walk around Malta's tiny capital, Valletta, is a must, and St John's Co-Cathedral is the artistic and decorative highlight. The best way to see fortified Valletta as the Knights and their enemies saw it is from the water. This is also the most congenial way to get between Valletta and Sliema, and Valletta and the Three Cities.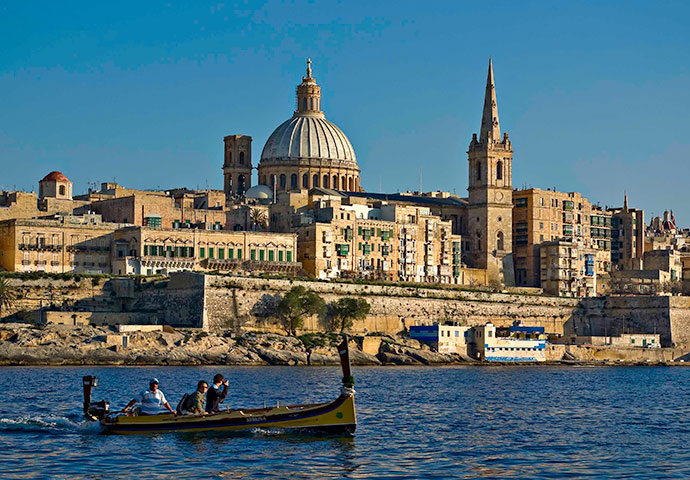 In the island's interior is the medieval walled town of Mdina. Take a walk around, by day if you plan to go into the museums, otherwise in the evening when the tour groups have gone. Rabat (around Mdina) is often ignored, but it is a pleasant place with some amazing late Roman catacombs, of which St Paul's is the largest and most accessible.
The other period of European history that stands out in Malta is World War II, when 'Fortress Malta' played a significant (and locally devastating) role in the Allied victory. There are several underground shelters that can be visited, the Malta at War Museum being the most organised.
Beyond history, many people come to Malta, and especially to Gozo, for the diving, snorkelling and swimming. Walking is great, especially in spring, along the coasts of northeastern Malta and on Gozo.
If you are interested in churches, there are hundreds! The churches and villages come particularly alive during the festa season (mostly May to September but with a few outside these dates. Bunting and lights decorate the church and streets, and the whole parish, as well as outside visitors, gathers to make music, worship, parade, party, eat, drink and watch fireworks.
Finally, don't miss Gozo. It is completely different from the main island, much greener and much more relaxed. The Citadel is well worth a visit, there is plenty else to see and the swimming is excellent. A day trip is better than nothing, but really this is a place to spend a few days.
Suggested itineraries
Malta in a day
Most one-day visitors are cruise passengers, who arrive at the Grand Harbour's new purpose-built waterfront in Floriana, just outside the walls of Valletta. If you organise it in advance, you could step straight off your huge modern ship onto a tiny traditional one, a dgħajsa, for a 30-minute tour of the Grand Harbour, or board the sea plane for a half-hour airborne tour of the Maltese islands.
If you want to see the historic sights and do not want to do so in a large unwieldy group, then book a guide for the day and ask him/her to arrange a car (or minibus) and driver for the afternoon. Grab a sandwich, so you don't have to stop for lunch, and request something like the following whistlestop tour (obviously adapted to your interests and time available):
• Walk around Valletta (1 hour)
• Highlights of the National Archaeological Museum (30 minutes)
• St John's Co-Cathedral (30 minutes)
• Dgħajsa boat tour around the Grand Harbour (30 minutes)
• If you have time (for instance, if you are unable to book a slot at the Hypogeum – below) then take a walk around Birgu (1 hour)
Pick up car and driver and head to:
• Mnajdra and Ħaġar Qim temples (1 hour 30 minutes including travelling time) – if you don't have time for this then replace it with the less attractive but still very interesting Tarxien Temples which are close to the Hypogeum.
• Mdina and Rabat – including St Paul's Grotto or Catacombs (1 hour 30 minutes including driving time)
• The Hypogeum (1 hour) – you will not need a guide for this but do need to book well in advance. If few slots are available, you may have to adapt the day's programme to fit in with the slot you are allotted.
• Back to Valletta (20 minutes' drive)
Malta in five days
Day 1
Wander around Valletta's narrow streets and seafront fortifications, taking in whatever grabs your interest (1–2 hours). Visit the National Archaeological Museum (1 hour) and arrive at the Upper Barracca Gardens at 11.45 for the firing of the noonday gun. Bring pastizzi or similar for a quick lunch or grab something at the Barracca café. The Barracca lift down to the harbourside and hop in a traditional dgħajsa water taxi for a tour of the Grand Harbour (30 minutes) ending at the Vittoriosa Waterfront (Birgu). Go inside Fort St Angelo and wander around Birgu and the Knights' area, the Collachio before visiting the Malta at War Musuem. Either eat supper early in Birgu or take the ferry or water taxi (or bus or car) back to Valletta and its many excellent restaurants.
Day 2
Start at Mnajdra and Ħaġar Qim temples (1 hour), then (in summer) perhaps a swim and lunch at nearby Għar Lapsi, or a stroll along Marsaxlokk harbour and a fish lunch at any time of year. Head inland to Rabat to see St Paul's Catacombs and take a stroll around Mdina, perhaps including the interior of the cathedral and its museum. Hop on the bus (if you're not driving) to Dingli Cliffs to explore 'Clapham Junction' with its mysterious ancient cart ruts and troglodyte caves. Maybe have a walk and watch the sunset. If you have a car, you could reverse the order of the last two visits and follow an evening walk at Dingli Cliffs with an atmospheric supper in a historic building along one of Mdina's medieval alleyways.
Day 3
At 09.00 (before the tour groups arrive) head to the Tarxien Temples, then walk to the not-to-be-missed underground tomb complex, the hypogeum (book well ahead). In the afternoon head back into Valletta to visit St John's Co-Cathedral (with the audio guide, 1–1½ hours) and Fort St Elmo including the National War Museum. Finish the touring day with a visit to Casa Rocca Piccola then catch a show at the Manoel Theatre or Pjazza Teatru Rjal.
Day 4
Take the ferry to Gozo and check into your accommodation before taking a walk around the citadel before lunch of fresh Gozitan food at Ta' Rikardu. Once lunch has gone down, head for Ramla Bay for a swim and a visit to Calypso's Cave for the view.. If it isn't swimming weather, explore the salt pans outside Marsalforn and walk along the north coast towards Żebbuġ. .
Day 5
Visit the Ġgantija Temples and then have a swim or a snokel at rocky inlet Mġarr ix-Xini and visit the Knights'-period tower (check opening times) or take a walk (and maybe a boat ride) around Dwejra before heading for the ferry.
Longer stays
If you have longer than five days, all the better. Take your time and spread the sights out so that you can do them more thoroughly and in a more relaxed way. And go to some of the more minor ones too. Leave yourself time to sit over your lunch as the Maltese do and, if it's summer, take a break on the beach or by the swimming pool.
When you have had your fill of the main island, head to Gozo. Leave yourself as much time here as you can. Gozo is not a place to be rushed; it is somewhere to really let your hair down and relax. Walk the remarkable coastal landscape, climb the flat-topped hills and laze by the crystal-clear water. You can cram the highlights into a few days but if you really want to chill out and enjoy the country, the longer the better.
Destination highlights