Climate
Malta, unsurprisingly, has a Mediterranean-island climate, with hot dry summers and mild damp winters with occasional chilly winds. The temperature rarely rises above the mid-30s (°C) or falls below the high single figures.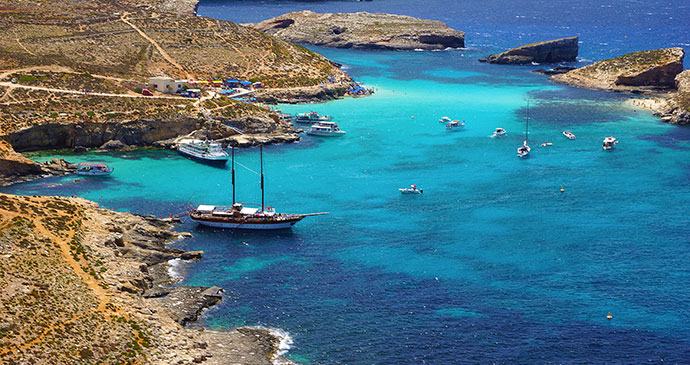 It hasn't officially snowed here since 1962 (a few flakes were reported in 2014 but it wasn't regarded as a proper snowfall), and before that 1905, although there was a massive hailstorm in the unusually hard, wet winter of 2011/12. Even frost tends not to touch Malta. Rain is extremely rare in summer, reasonably frequent in winter. Spring is drier than autumn but can be made colder by wind.
When to visit
Malta enjoys some 300 days of sunshine a year and doesn't have a closed season (except in Comino) so you can visit at any time. The weather does, of course, vary through the year and can get wet and windy, and occasionally chilly in winter. The best time to visit depends largely on what you want to do.
Summer (which in Malta runs to mid-September) is dry, hot and quite busy. July and August are driest, hottest and busiest. The summer – especially August – is also dramatically more expensive in many areas with accommodation prices often double the winter rates. On the other hand there is very rarely any rain from early July to mid-September and the average peak temperature during the day is 30°C. Temperatures can go higher, but on the coast there is usually a breeze to stop it becoming oppressive. Watersports – swimming, snorkelling, diving, windsurfing, etc – are most reliable in summer when the water is warm and more likely to be calm. Summer is also festa time when each parish has its colourful religious feast day. There are feasts almost every weekend in summer and many other events besides.
Winter is generally mild and can be warm and sunny. Even in winter there is an average of five hours sunshine a day. There are, however, significant patches of cold wind and rain. When it is very windy and the sea boils up (which can be great to watch), ferries may stop running, though rarely for more than a few hours. Even in January (the coldest month) average daylight temperatures are 9–14°C. The cooler months are generally OK for sightseeing, but not, of course, for swimming. Accommodation is much cheaper than in summer, except over Christmas and New Year, when – although Malta is not busy – prices rise dramatically.
Spring and autumn (April–June/late September–November) are ideal if you don't like crowds but would like a bit of sun and are primarily interested in the sights and the countryside. Swimming can be very pleasant from May until the end of October (with the water warmer in the autumn) and on weekdays at least you are quite likely to have the beach to yourself.
Calendar
January
Baroque Music Festival
The Manoel Theatre hosts the festival's concerts © www.viewingmalta.com
Baroque feast for the ears and eyes. In this newly annual festival, national and international musicians perform Baroque music in the perfect period setting of the capital of the Knights of St John. Concerts are held in the Knights' delightful little Manoel Theatre and their Baroque extravaganza, St John's Co-Cathedral.
February
Feast of St Paul's Shipwreck
This traditional Maltese festa on February 10 celebrates the day in 60AD when the nation's patron saint, St Paul, is said to have been shipwrecked on Malta. Lots of activities, religious and secular: processions and prayers, music and Masses, fireworks and general fun for all.
March
Easter
A Lent procession in Għajnsielem, Gozo © www.viewingmalta.com
A spectacle of mourning before a feast of good cheer. Malta (98% Catholic) takes Easter week very seriously. Elaborate displays of the Last Supper, churches shrouded in damask and Good Friday processions of mourning through the streets give way on Easter Sunday to a joyful Mass followed by a large family lunch, Easter eggs and figolla – pastry filled with almond paste and topped with icing.
April
George Cross Ceremony
The nation's other cross remembered. In St George's Square, at the heart of Valletta, this solemn but colourful ceremony marks the original award of the George Cross by King George VI in 1942 to the entire population of Malta for fortitude in holding out under siege from the Axis powers. The Maltese remain understandably proud of their role and the George Cross features on the national flag.
May
Firework Festival
The colourful display over the Grand Harbour © Clive Vella, www.viewingmalta.com
Sparks fly over the Grand Harbour. The Maltese love fireworks and on May 1 the Grand Harbour is stunningly lit up with every pattern of colourful sparks imaginable.
June
Malta Music Week
Bop beneath the bastions. A week of concerts, club nights and parties leading up to the Isle of MTV, said to be the largest free open-air concert in Europe, featuring international stars. Past participants include Lady Gaga, Tina Turner, Will-i-am and Rod Stewart.
July
Malta Arts Festival
Capital Performances and Waterside Swing. A feast of theatre, opera, classical concerts and visual arts – mostly in Valletta – and jazz on the banks of the Grand Harbour.
August
Santa Marija Festa/Feast of the Assumption
This is the most important festa of the calendar © Jeremy Enness, www.viewingmalta.com
Horses and hallelujahs for Our lady. The most important festa of the calendar, the feast of the Assumption of the Virgin Mary is celebrated in parishes across Malta. Streets on Gozo are over to horse racing.
September
Victory Day
Two Great Sieges – two great September 8s. Malta's two Great Sieges – 1565 (by the Ottoman Turks) and 1942 (by the Axis Powers) – both ended on September 8, making this date the perfect excuse for an annual national holiday and regatta in the Grand Harbour.
October
Notte Bianca or Birg Fest
A performance on the Notte Bianca © www.viewingmalta.com
For one night, usually in October, occasionally September, the nation visits cultural attractions and parties into the early hours. Museums, galleries, shops and restaurants stay open well into the night and usually-closed historic buildings open to the public.
November
International Choir Competition and Festival
Hear the voices of Valletta: five days of choral concerts and competition in Valletta's many beautiful churches.
December
Bethlehem f'Għajnsielem
Stay at the inn where Jesus was born. The greatest of Malta's many Christmas nativity scenes is in the Gozitan village of Għajnsielem. Here the entire town of Bethlehem is recreated, with complete family homes, real animals and functioning shops and eateries. You may even find room at the inn. For more information, see the website.