Getting there and away
Getting around
Visas
Visitors from the UK and Ireland need a valid passport but do not need a visa. Nationals of EU countries with national identity cards may travel on these instead of a passport. There is no limit on how long an EU national may stay in Malta so long as he/she is economically self-sufficient. After the first 90 days, however, residence documents are issued.
Malta is a member of the EU Schengen area, giving it the same entry rules as other EU counties (except the UK and Ireland) for visitors from outside the EU. No visa is required for a stay of less than three months by those from the USA, Canada, Australia, New Zealand, Japan or most non-EU European countries (with the exception of Russia).
Other nationalities need to contact a Maltese embassy, consulate or high commission or where none exists, the embassy or consulate that looks after Malta (often the Italian or Austrian). Further information and downloadable visa application forms can be found on the Maltese Foreign Ministry website.
Getting there and away
By air
There is one international airport in Malta, in the southeast of the main island. It is just three hours' flying time from the UK – less from southern Europe. There are numerous direct flights, on low-cost airlines and national carriers, scheduled and charter, including from many regional airports.
By sea
Ferries operate to Malta from Sicily, arriving at the Sea Passenger Terminal on the Valletta Waterfront. They take as little as 1½ hours to cross from Pozzallo on Sicily or three to four hours from Catania (the city next to Mount Etna). The ferries are fast catamarans that also carry cars, and are run by Virtu Ferries.
Getting around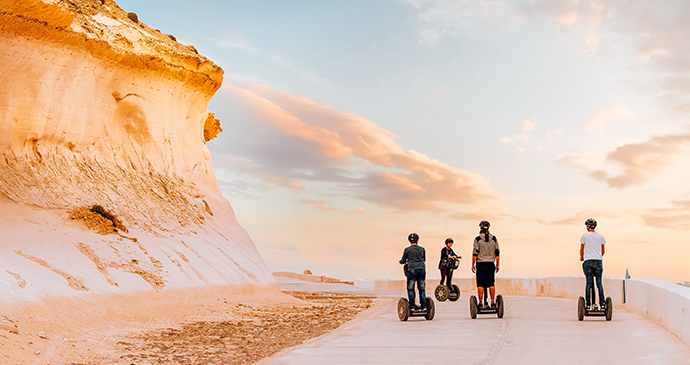 A Segway tour is a great way to explore Gozo's landscapes © Visit Malta
Public transport on Malta is very good. There are no trains but you can get buses to almost everywhere and there are plenty of taxis. The ferry between Malta and Gozo is frequent and takes under half an hour. It goes from Ċirkewwa in the very north of Malta, about 45 minutes by car from Valletta (unless it is raining or rush hour, in which case it will take longer).
By bus
Gone are Malta's iconic brightly painted 1950s Leyland 'boneshakers' that lasted until less than a decade ago. They have been replaced with boring modern single-decker buses with air conditioning (usually, and sometimes too much!). The main bus station is just outside the city walls of Valletta at City Gate where you will find a long row of bus stops and an information kiosk which also sells tickets. Unless you are in a huge hurry or going somewhere really off the beaten track, buses are a great way to get around. Most stops (other than bus stations/termini) are request stops so you need to stick your arm out to board the bus and push the button to get off.
Generally, bus numbers below 100 start in Valletta and buses with an X go to the airport, but there are exceptions so do check. No buses run inside the capital, as most of it is pedestrianised and even those that aren't are narrow. The bus station is only a few minutes' walk from the centre of town, however, and buses do run around the outside of the city walls, so you can get within a few minutes' walk of anywhere in the city.
By taxi
Taxi fares from the airport are regulated but it is still worth agreeing the fare before getting in, as it is on all other trips in taxis, water taxis and horse-drawn cabs.
By boat
Travelling between Malta and Gozo is easy, with regular ferries taking less than half an hour. Boats also operate to the tiny island of Comino from both Malta and Gozo. There are ferries across the harbours either side of Valletta to Sliema and the Three Cities. Plenty of day cruises are on offer too including around Malta, around Gozo, harbour tours and day trips to Comino.
Self-drive
The Maltese love their cars. They will always drive rather than walk – even if it's just a few hundred metres – and there is lots of interest in the best new model. There are therefore far too many cars on the roads, with some of them going rather faster than they should. Malta drives on the left (like the UK) – at least in theory. As one local put it: 'We drive on the left … or on the right, or in the middle of the road.' The standard of driving in Malta is described by the British Foreign Office as 'poor' and it can certainly be erratic.