Malta offers a wonderful combination of sunshine holiday and fascinating sightseeing. In fact, this island nation has the greatest density of historic sites of any country in the world, and its gorgeous little capital, Valletta, is a UNESCO World Heritage city. There is always something happening in Malta and its year as European Capital of Culture 2018 was catalyst for an even greater artistic, cultural and historic offering that will last for years to come.
Into an area smaller than the Isle of Wight it packs 7,000 years of history – and prehistory. The earliest of its Neolithic temples – strangely little-known beyond its shores – are 2,000 years older than Mycenae, 1,000 years older than the Great Pyramids and 500 years older than the famous standing stones at Stonehenge. They all have UNESCO World Heritage status, as does the Ħal Saflieni Hypogeum, an extraordinary underground tomb complex, cut from solid rock, that echoes the architecture of the above-ground temples. And this is just the beginning of the story.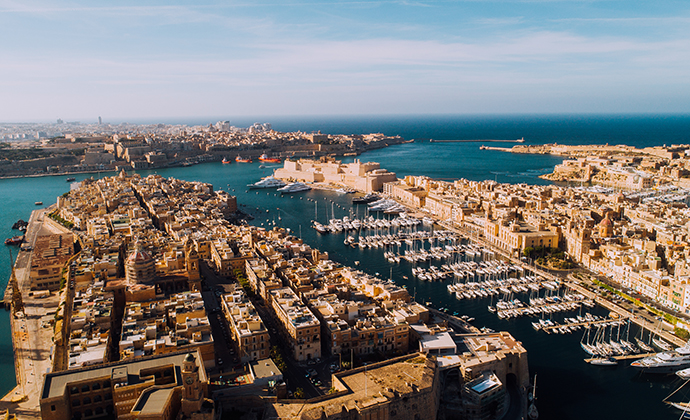 Malta is renowned for its rich history, still visible today in the form of temples and tombs © Visit Malta
Malta's position in the middle of the Mediterranean and its perfect natural harbours have meant that anyone wishing to control or trade in the Mediterranean has needed access to this country. Almost every major European power in history (and some minor ones) has occupied these islands or tried very hard to do so. Each has left its mark on Malta's landscape and culture. So as well as megalithic temples, carved altars and dramatic underground rooms, Malta has colourful boats adorned with the 'Phoenician' eye of Osiris, Roman mosaics and catacombs, and a still-inhabited medieval walled town of narrow lanes and heavy fortifications.
In the midst of the faded elegance of today's diminutive capital, Valletta, is hidden the opulent St John's Co-Cathedral and many more examples of the Baroque art and architecture of the Knights of St John – the 'Knights of Malta' – who ruled these islands from 1530 to 1798. They were followed (after a brief French occupation) by the British. There are still red letter boxes and phone booths all over Malta, and, in Valletta at noon each day, music of the Band of the Royal Marines is played and a cannon fired beneath a public garden overlooking the vast expanse of the Grand Harbour.
This impressive harbour was at the centre of Malta's two famous sieges, both of them critical to the future of Europe. In the Great Siege of 1565 the Ottoman Turks very nearly took the island, and 1940–43 saw Hitler and Mussolini tried to bomb and starve Malta into submission. The fortitude of the Maltese in holding out against the Axis powers was rewarded by King George VI with Britain's highest award for civilian bravery, the George Cross – the only one ever awarded to an entire nation.
This tiny country has absorbed so many influences, and yet Malta is very much Maltese. Ninety-seven per cent of the population was born here and although English is widely spoken, Maltese (or Malti) remains the mother tongue of most of the population. The country has its own cuisine and its own culture. The people of Gozo, Malta's smaller island, pride themselves on being different from the inhabitants of the main island – and Gozo does indeed have its own character.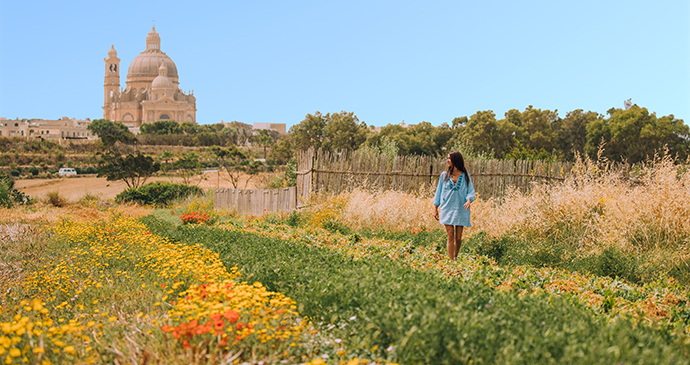 The island of Gozo has a gloriously rural landscape © Visit Malta
Taking the 25-minute ferry from Malta to Gozo is like leaving the city for the countryside. Much less built up than its larger neighbour, Gozo has – besides a couple of lovely sandy beaches – a rugged coastal landscape described by a visiting Edward Lear as 'pomskizillious and gromphiberous'. It is thought by some to be the real Calypso's isle, where Homer's Odysseus (Ulysses) remained spellbound by the loving sea nymph for seven years. Gozo is the place to relax.
Malta is welcoming to visitors and nearly two million now come here each year (more than a quarter from the UK). The package-holiday image Malta lived with – and indeed promoted – for some three decades undersold this remarkable little country terribly and is fortunately now changing. Malta has wonderful weather (with some 300 days of sunshine a year) and plenty of holiday facilities. There are excellent restaurants, and lots of outdoor activities to enjoy – swimming, snorkelling, diving, boating (of various kinds), walking, sports and spas. But there is also so much that is unique to Malta that has often been overlooked.
In the last few years, helped by the year with Valletta as Capital of Culture, Malta has begun to value and to capitalise on its superb historic sights. There has been a huge amount of restoration and refurbishment. Historic homes have risen from the dust, with quite a number becoming boutique hotels or visitor apartments and cultural tourism is dramatically on the rise. A few cognoscenti have long known the hidden gem that was the real Malta; now the country is wide open for everyone to discover.
Author's story
When I first mentioned to people that I was writing a book on Malta, most looked a bit blank: they associated Malta with package holidays and not much else. Some would come up with 'The Knights of Malta' or the 'Grand Harbour and World War II'. Only very few knew more. This is not to be critical of my friends and colleagues – just a couple of years earlier I was in exactly the same position. It was almost by chance that I discovered just how much this tiny nation really has to offer and became a bit evangelical about it. So, when I was asked if I would write this book, I had to say yes.
Malta has spent many years hiding its light under the bushel of sun-and-sea mass tourism. This Mediterranean island nation certainly has plenty of glorious sunshine, and beautiful clear blue waters, and Gozo in particular is a great place for a relaxing holiday. But for the main island at least, Malta's USP is surely its extraordinary historic and – and prehistoric – sites.
My first trip to Malta was actually to write about Gozo. My family and I walked the high Ta' Ċenċ cliffs, soaked up the autumn sun and swam at an almost deserted, red sandy Ramla Beach. And we visited Ġgantija Temple, my introduction to one of the least-known and most intriguing aspects of Malta's past: the 'Temple Culture' that thrived here 5,500 years ago. It has left us the second-oldest stone buildings in the world, all of which now have UNESCO World Heritage status.
I did not get a chance to see any of the other temples on that trip. We had a mere half-day on the main island – a whirlwind press tour that did not include prehistory. In fact, as we drove past serried ranks of modern apartment blocks and hotels, our first impressions were not great. But then we reached Valletta, Malta's tiny, citadel capital surrounded on three sides by azure sea – a place of real historic charm. Across the Grand Harbour we saw Birgu, the Knights' first home in Malta, and, in the centre of the island, the walled medieval fortified city of Mdina. Historically, I realised, this tiny country punches well above its weight. I knew I would have to return.
And of course I have – criss-crossing the country exploring everything from underground tombs to towering cliffs, welcoming bays to forbidding fortifications, prehistoric temples to high-rise hotels, roadside kiosks to gourmet restaurants. This has only confirmed my view that Malta offers fascination and reward to the visitor way beyond mere sun and sea and far in excess of its size. I hope readers of this book will enjoy the sunshine and the coastline (as I do) but will also have the pleasure of discovering this country's extraordinary 7,000-year history.