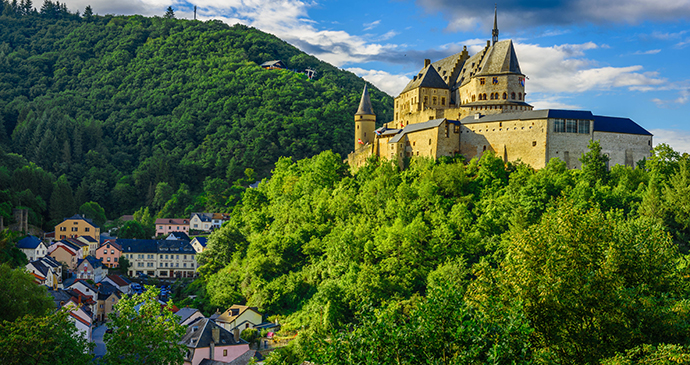 With excellent museums, fantastic views and one of the world's most impressive medieval castles, Vianden is somewhere no visitor should miss © Mikel Trako
Nestled in a steep valley on the banks of the Our River, Vianden's setting alone would make it worth visiting. But the addition of one of Europe's most impressive medieval castles, perched on a rock gazing imperiously down over the small town, sends its tourism credentials rocketing skyward. When you add the museums, churches, views, and an adventure rope garden for the restless, it becomes somewhere no-one should miss. It may not cover a huge area, but it packs an awful lot into a tiny space, and in-between are at least a dozen hotels and an even greater choice of eateries.
Dominated by its dazzling castle, one of Europe's most impressive medieval fortresses, Vianden's narrow old streets lend it an unmissable charm.
One thing you may notice is that the vast majority of your fellow visitors are Dutch. They clearly know what the rest of the world is just waking up to. Many signs and menus are designed in response to this, and aimed to appeal to Dutch tastes. You're as likely to be greeted with a 'goedemiddag' as you enter a restaurant here as you are a 'Bonjour' or 'Moiën'.
The local population certainly enjoy throwing a party and dressing up. All manner of special rituals, festivals and markets are held throughout the year, and if your arrival coincides with one of these it'll add an extra dimension to your visit.
Walking around Vianden presents the visitor with something of an enigma. It's one of Luxembourg's most-visited spots, and deservedly so. The main streets in the centre are lined with bars, hotels, cafés and restaurants. There are places modelled on Swiss chalets, with eateries serving cheese fondue to perpetuate the illusion, and a chairlift to carry you up to a lofty viewpoint. This is full-on Touristville. Yet take two steps down practically any side street and it's as if you've been transported to another world: into a quiet rural village with cobbled streets, where the smell of wood smoke lingers in the air even in summer, and where you feel that to breathe too heavily would disturb the sleeping dogs. The two conflicting halves together are what make Vianden such a vital and enjoyable place to be.