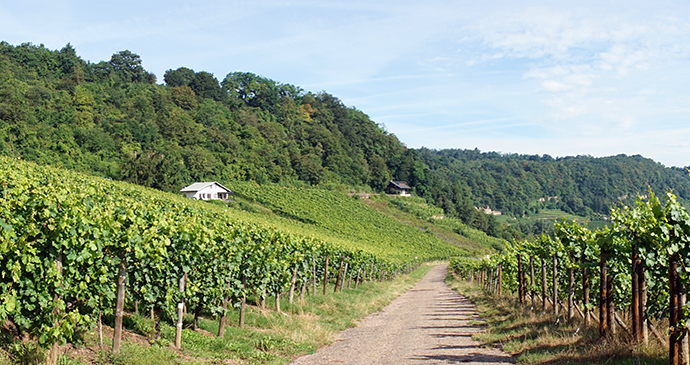 The Moselle Valley is one of Europe's most up-and-coming wine regions © shanin, Shutterstock
With chocolate box scenery and scintillating taste sensations galore, Europe's smallest wine-making region makes a big splash on the global viticulture scene.
The wines of Luxembourg are an undiscovered secret, itching to take the world by storm. Few people outside the country are even aware they exist. And still fewer have noticed how good they are. Until now …
Oft-overlooked by the wider world, one of Europe's smallest wine-growing regions stretches a mere 42km along the west bank of the Moselle River, which briefly grazes the Grand Duchy en route between France and Germany. The country as a whole has around 1,350ha of vines, but the overwhelming majority are here – besides its fertile soil, the location enjoys a microclimate particularly suited to winemaking.
A visit to this region is a must for wine enthusiasts. Not only will you be impressed by the quality, the prices may also come as a pleasant surprise, both in the shops and in bars and restaurants. Some wineries are happy for visitors just to turn up at the front door, and you may get a free tour and tasting (larger places tend to charge for these privileges). You're generally discouraged from appearing at smaller premises at harvest time, simply because the overworked staff are too busy. Besides buying wine, there are several wine museums here, and practically every village holds its own festival, with attendant tasting opportunities, naturally. The two biggest events are the Grevenmacher wine festival and the Riesling Open.