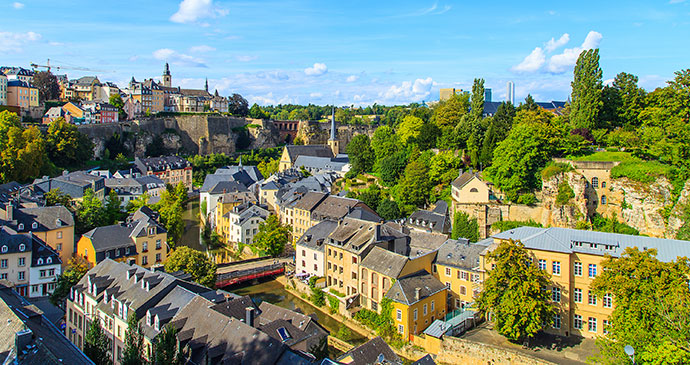 With an abundance of pleasant squares, great museums and centuries-old architecture, Luxembourg City is one of Europe's most charming capitals © Marcin Krzyzak, Shutterstock
This is a capital city that works on many levels, from the shops and museums of the elegant upper town, on the rim of two gorges, to the lower town's buzzing nightlife districts.
'Gibraltar of the North', one of Europe's smallest capitals, or Eurocrat heaven. Think of it how you will, Luxembourg City is many things to many people. But put it all together and what you find is a place of manageable scale, with abundant charm and one of the most stunning settings of any urban area in Europe. At the confluence of the Alzette and Pétrusse rivers, both of which have cut deep gouges into the sandstone plateau, it's the old town's spectacular location, perched on a cliff edge, which grabs your attention right away. Its 'Gibraltar of the North' tagline actually refers to the fortifications dug into the rock – in appearance I think 'Edinburgh of the Continent' is more apt (although I concede it doesn't scan as well). Lacking the overwhelming scale of London or Berlin, this is a city you can navigate on foot, with plenty of pleasant squares, surprising amounts of green, great museums and intact centuries-old architecture. In short, it's a delightful place, and UNESCO clearly agrees: it awarded the old town World Heritage status in 1994.
Quaint and appealing as it is, the city also has a hard-working business and administrative side, which has made it wealthy. It's a major centre of international banking, the seat of several significant European institutions, and (along with Strasbourg and Brussels) one of three capitals of the EU. Despite its permanent metropolitan population being just 114,000, these roles have turned it into the most multi-cultural of cities – around 60% of the residents are of foreign origin. The population also more than doubles every working day, when 120,000 migrant workers flood in from Belgium, France and Germany. When everyone goes home in the evening it can feel strangely empty in the centre, with only tourists and the remaining locals left to frequent the bars and cafés.
This is the only place to have become European Capital of Culture twice, having held the honour in both 1995 and 2007. The title may have since passed on, but its legacy is in plain view, as large sums of public money were poured into creating prestige sites such as the MUDAM Museum of Modern Art and the neighbouring Philharmonie Concert Hall, both gems of modern architecture. New and old, there's more than enough here to keep you occupied for days.