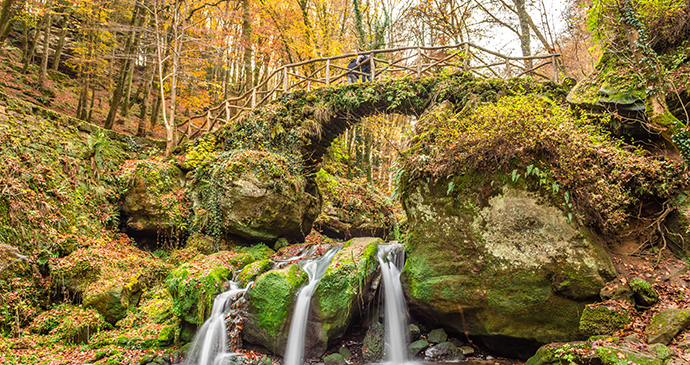 Craggy outcrops, deep gorges and winding pathways abound in Luxembourg's very own 'Little Switzerland' © Abhinav Malasi, Dreamstime
When Dutch tourists first arrived in this area a century ago, they took one look at the rugged rocky landscape and immediately dubbed it 'Klein Zwitserland' ('Little Switzerland'). Compared with the flat farmlands of the Netherlands it may indeed seem like the Alps, but we should put things in a little perspective. Don't be fooled into expecting extensive snow-capped vistas because you'll leave disappointed – the highest point is, after all, only 414m above sea level.
What you will find is a maze of spectacular craggy outcrops, pathways, gorges and valleys. Situated between Beaufort and Echternach, and completely encompassing Berdorf, it has some of the best walking routes and the most sublimely beautiful scenery in the country.
A world of micro-gorges, forests and babbling brooks, this area of the Müllerthal is a paradise for hikers.
Like many of nature's greatest creations, Little Switzerland owes its existence to water. It formed over a million-year period as the Ernz Noire and Hallerbach rivers gouged away at the sandstone plateau, a former seabed that had covered the area for 20 million years. When the sea receded, time and weathering, particularly of limestone deposits accumulated in cracks in the sandstone, eventually carved the exposed rock into gnarled and twisted formations.
This isn't just a land of breathtaking beauty; it's also tranquil and very peaceful. Beyond the clomping footsteps of fellow hikers the air is filled with birdsong and gently trickling water. Best of all, it's easily accessible for hikes of almost any length, with well-maintained trails and clear signposting. Many of the best start and finish right by the bus station in Echternach. Visit the information offices in Echternach, Beaufort or Berdorf to pick up maps.