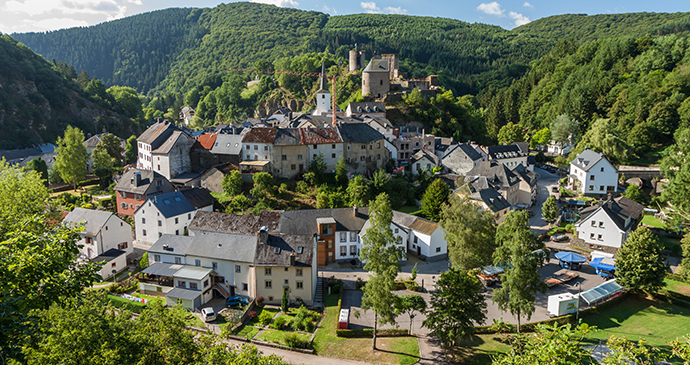 Esch-sur-Sûre, a village so attractive it just begs to grace the cover of 1,000 jigsaws © Miss Ruby, Shutterstock
Luxembourg's tiniest town perches on a rock above the river, and is the gateway to the nation's largest lake, a beautiful watery haven in the heart of the Ardennes.
Before you even reach Esch you know something special is happening. Turning off the main road between Bastogne and Ettelbruck, the first thing you do is pass through a rock tunnel. It already feels like entering a secret world. And then you round the last bend and see the village proper, and it just gets better. Make no mistake: Esch is gorgeous, displaying a near-fairytale quality. It clings to the sides of a giant rock that's been marooned by a sharp meander in the Sûre River. Looking down from above are romantically crumbling castle ruins. At the southern end of town is a second tunnel (rather prosaically, both were actually bored in the 1950s to allow construction traffic to access the Upper Sûre barrage). The river bends so severely it turns the land into a virtual island, connected to the 'mainland' only by a narrow isthmus. If you were so inclined you could use the 80m tunnel to bypass the entire place in under five seconds – but why would you want to do that?
Esch has few actual distractions to keep you entertained, but the big draw is the village itself. It's just a fine place to be. Go walking in the surrounding region by day, and enjoy hanging out in Esch by night. Or just sit and enjoy the view. You won't be alone though: while the official population is little more than 300, the numbers swell many-fold on sunny weekends.