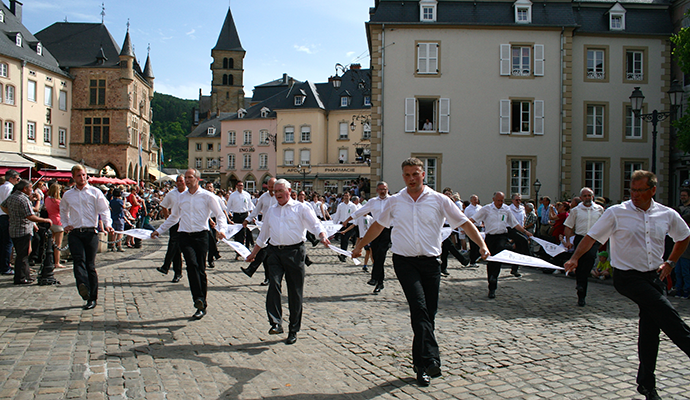 The annual Dancing Procession takes place every Whit Tuesday, and is one of the country's most interesting festivals © Foto acpress(e)/LFT
On the German border, the country's oldest, cutest town is dominated by its abbey.
When I first saw Echternach I was immediately smitten. On the German border, by the banks of the River Sûre, it's a simply lovely place, which anyone with a soft spot for old European architecture will enjoy. With its arched shop frontages and wrought-iron shop signs, from some angles and with a favourable wind you may blink and think you've been transported to Salzburg, but in miniature. Yet even with a population of almost 5,000, Echternach still evokes a cosmopolitan city feel that belies its stature. And with a great choice of hotels, restaurants and bars it also makes an ideal base for a day or three while exploring.
The town is dominated by its medieval abbey, founded in AD698 by St Willibrord – a Northumbrian monk – whose body lies in the crypt of the basilica. Around that, some of the old city walls remain intact, and several of its original watchtowers have been restored, fitted with all mod cons, and made available as holiday apartments. In May and June, music fills the air as the Echternach International Music Festival comes to town. And on Whit Tuesday, thousands participate in the annual Dancing Procession.