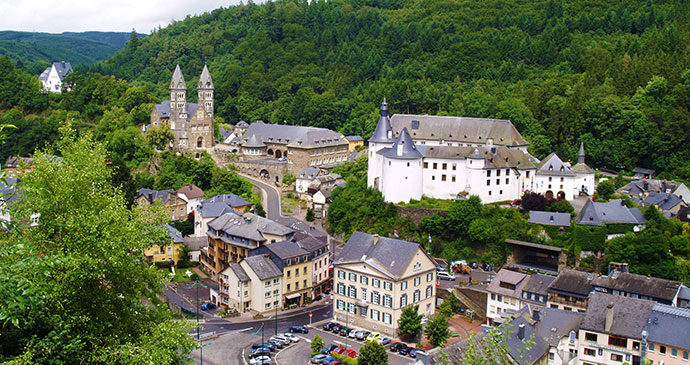 Clervaux's castle and church dominate the town's view © Tim Skelton
The picturesque setting of this town, nestled in a steep-sided valley, forms the perfect backdrop to the world's most important permanent photo exhibition.
Approaching Clervaux by road, you may have little idea it's there at all until you stumble upon it. Hidden in a valley and surrounded by plateaux, the only clue indicating human habitation is the tower of Clervaux Abbey peeking above the horizon. The main approach road from the east drops dramatically off a ridge via a series of hairpins, offering great views of the charming little town with its pretty church, and the strikingly white castle at its centre – the whole area feels hemmed in by the sheer wooded slopes all around. The castle is home to 'The Family of Man': the world's greatest photographic exhibition, recognised by UNESCO for its cultural importance.