If you miss the annual Braderie, then make sure you visit the Sunday flea market in a lively, up-and-coming quarter.
Emerge from Gambetta métro station and prepare for all your senses to be ravaged. Surrender to the pulse of the city and simply follow the crowds past puppies and chickens, rabbits and budgerigars. Around the church of St Pierre and St Paul swims the tide of humanity, past antiques, bric-a-brac and junk, past piles of clothing.
Into the place de la Nouvelle Aventure the adventure continues, past mounds of gloriously plump fresh chicory, rose-red radishes and tear-blushed artichokes from the market gardens of Artois and Flanders, past puppets and playthings, smart coats and swimwear; shop doorways flung open on a Sunday; past promises of 'Special prices just for you Monsieur, Madame, only today from my cousin in Africa'.
Into the red-brick market hall itself: past fresh North Sea fish on the slab and crates of seafood; past cheeses from the region and beyond; past exotic sausages and pristine plucked poultry. Through the hall to the flower market: past carnations and lilies; past spring blooms or Christmas wreaths.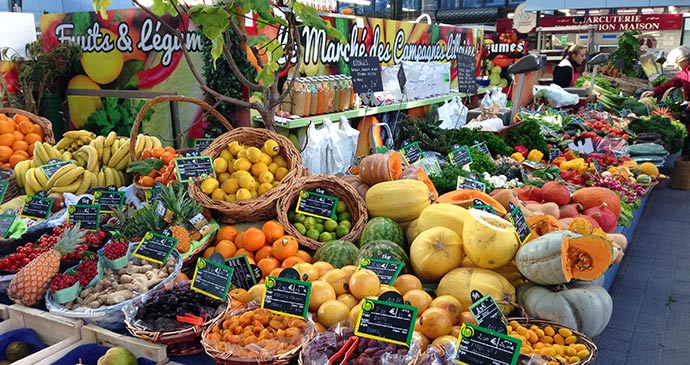 From café doorways hear the sound of the accordion playing. An old man on a bicycle offers bunches of herbs from his panniers to passers-by and a younger biker steps off his Harley to try on a new leather jacket for €70. Backs are slapped, hands are shaken, noses are tapped and deals are struck.
As the church bells toll for mass, traders' cries mingle with the sound of a barrel organ. At the back of a lorry blocking the rue des Sarrazins, gleaming saucepans are offered at never-to-be repeated prices, and in the midst of the whirlpool of the market square a salesman demonstrates his miracle wonder-broom or incredible, magical vegetable-slicing machine.
All in all, Wazemmes on a Sunday morning is an unforgettable experience for bargain hunters and browsers alike.