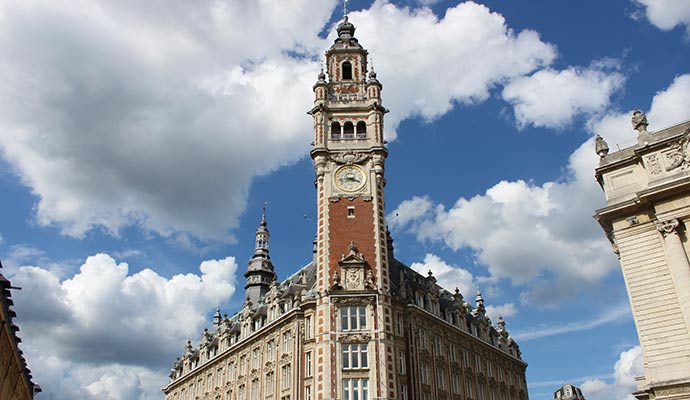 Cordonnier's Chambre de Commerce building © Anna Moores
The smaller of the great central squares is the gateway to Vieux Lille and home to a superbly restored opera house, an iconic belfry and the Renaissance cloister of the Vieille Bourse, haven of bibliophiles and tango dancers.
Only pedestrianised as part of the city's millennium renovations, this is the junction of Lille ancient and modern. Spot the iron arm hanging above the junction of rue de la Bourse and rue de la Grande Chaussée pointing visitors to Vieux Lille. The two most striking buildings on the square are surprisingly new, dating from the 20th century: the Neoclassical opera house, with its monumental sculptures of Apollo and the Muses, and the splendid 76m neo-Flemish belfry of the imposing Chambre de Commerce et d'Industrie – both built by Louis Cordonnier.