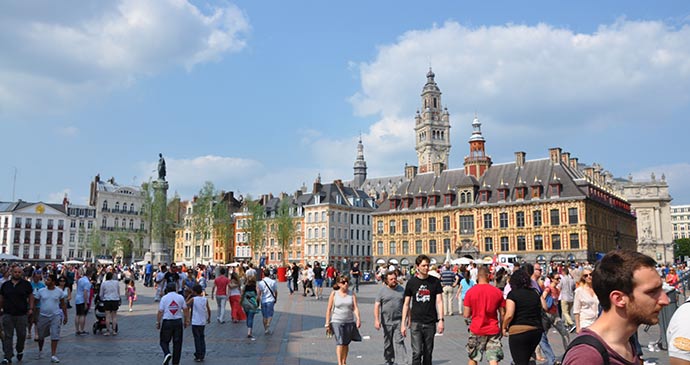 © Nord Tourism
Overlooked by a stature of the city's goddess, the main hub and social rendezvous of Lille opens out to the modern shopping district.
Named after Lille's most famous son, but known to everyone simply as the Grand' Place, the main square is the very heartbeat of the city. Almost pedestrianised, although a serpentine trail of traffic slithers slowly and safely along two sides, this is a veritable forum where shoppers break their day, friends plot an evening and revellers celebrate the night.
The essential rendezvous is the central fountain around the column of the Déesse, the goddess and symbol of the spirit of the city. The statue commemorates the bravery of the townsfolk, withstanding the siege of Lille by 35,000 Austrian soldiers in 1792. The original idea, mooted the day after the victory, was to build a monument by melting down all royal statues (the Revolution was at its height and Marie Antoinette had not yet been executed). Enthusiasm waned, but eventually the Déesse was cast by Théophile Bra, with the intention of placing her atop his Arc de Triomphe in Paris. That plan too was abandoned, and the goddess returned to Lille, standing for three years in place Rihour before moving to Charles Benvignat's column on Grand' Place in 1845. Her crown represents Lille's ramparts, her right hand ever ready to fire another cannon, her left pointing to a plaque inscribed with the brave words of Mayor André's rebuttal of Austria's demands. Tongues soon began to wag, since from upper windows locals noted the goddess's uncanny resemblance to Mme Bigodanel, the 54-year-old wife of the then mayor. It seems her fuller figure had not gone unnoticed by the artist.
Under her watchful gaze, students hold their protest rallies, bands play on Gay Pride Weekend and the city's tame giants parade during the Fêtes de Lille. Grand' Place has a habit of dressing for every occasion: most famously as a Christmas grotto in December and January when, surrounded by Cinderella candelabra, a huge Ferris wheel swings sensation seekers into the skies to take in the panorama of gables and belfries from a swaying cradle high above the cobblestones. The wheel turns from mid-morning until well past midnight. Sometimes the cobbles are covered with plants, lawns and box hedges as the city gardeners decide to transform the square into a park. Perhaps the whole area will become a farmyard, with rows of market-garden cabbages in front of the theatre, and a herd of cows grazing contentedly outside McDonald's. On one memorable visit, thousands of screaming fans turned out for a free pop concert on a sultry summer's night, and obliging students on rooftops sprayed the crowd from mineral water bottles.