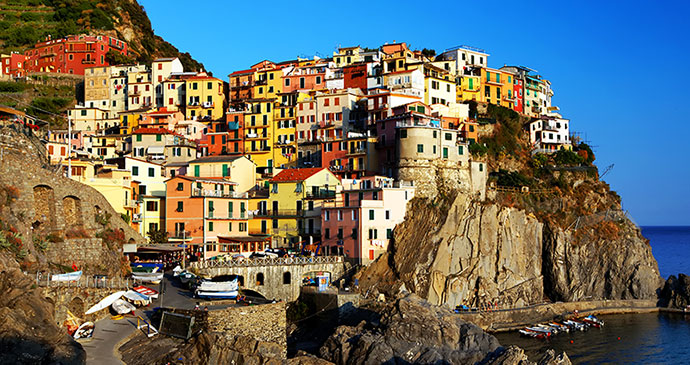 Manarola's colourful pink, brown, yellow and light-green houses are the subject of many postcards in the Cinque Terre © Mikadun, Shutterstock
The loveliest way to explore the Cinque Terre is on foot. The five towns are linked by the 14km-long Sentiero Azzurro, the Blue Footpath. It is the only footpath you have to pay for in the entire country but there are also 137km of free footpaths, still with spectacular scenery.
The Cinque Terre, despite its fame, is actually quite a mellow place if you know where to go, and is absolutely stunning. It is made up of five little villages that sit like limpets on the cliffs; terra is an old word for village. The five villages of Monterossa al Mare, Vernazza, Corniglia, Manarola and Riomaggiore have retained much of their original charm and the area was declared a UNESCO World Heritage Site in 1997. To see the Cinque Terre properly, it's best to stay a night or two in order to catch a real feel for the place.
There isn't a list of must-do things to tick off – this is a place to unwind, enjoy the outdoors, take a boat trip, swim in the sea and paddle in the rocky rivers. That said, if you try to go on a day trip to the Cinque Terre in July and August and base yourself in Monterosso, Manarola or Riomaggiore, you can easily end up burnt out and overwrought. These three towns attract the highest number of day-trippers and are very busy in the summer. To avoid the crowds, centre your visit on the coast in Corniglia and Vernazza and inland, in and around Pignone or Varese Ligure. Corniglia, as it is high up on the cliffs, is the one of the five villages that tends to get left out of day trippers' itineraries, and Vernazza retains an ability to rise above it all, as it is simply the nicest of the five.