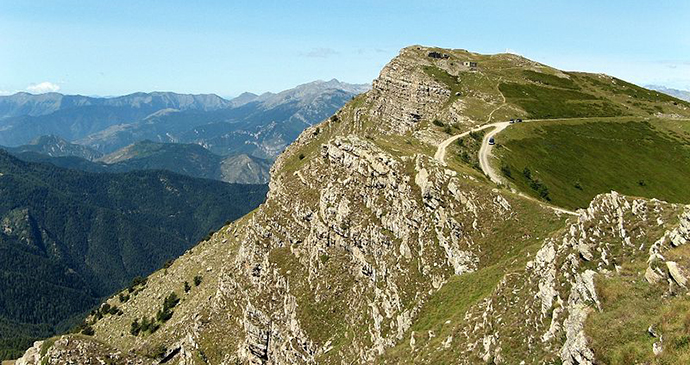 Liguria's mountains boast some of the best walking in all of Italy © Wikimedia Commons
Amongst the butterflies and wild flowers, from here on a clear day, it is possible to see as far as the Alps as the plain stretches out below the mountain range towards Turin.
Liguria is a great destination for walkers and is covered in trekking paths. The Alta Via dei Monte Liguri is a 440km footpath that runs the length of Liguria along the top of the mountains. It's Italy's longest continuous pathway reaching its highest point at 2,200m on Monte Saccarello. It's divided into 43 sections that take two to three hours to walk. Mountain refuges dot the path.
You don't have to be a serious walker to enjoy it. In places it is fairly flat and even possible to negotiate with small children. On a hot day on the coast the air on the mountains is degrees fresher. Pack a picnic and soak up the stunning views. On the western stretch on the path late spring sunshine brings out the wild flowers while the Ligurian Alps that mark the Italian border with France are still capped in snow.
Some of the best views are to be had in the depths of Liguria's wonderfully mild winters when it's possible to spot Corsica rising from the sea. Yet even in summer when the skies are clear you can catch a view of the Alps to the north. Much of the path runs through protected parkland; wild flowers and butterflies abound. Pick wild raspberries and blackberries as you stroll along the paths.