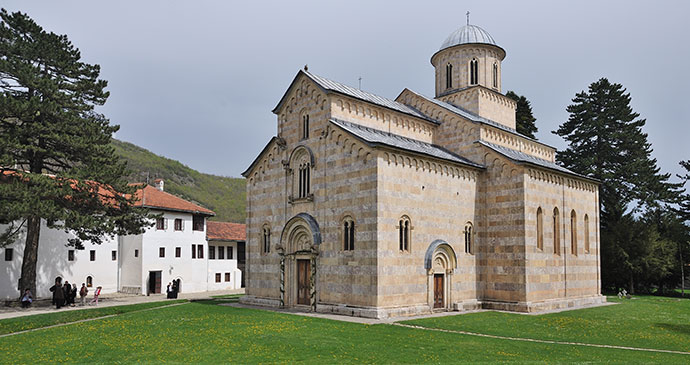 The Visoki Dečani Monastery is a must-see for any visitor to Kosovo © Ivan S Abrams
Arguably the most beautiful monastery in Kosovo, Visoki Dečani is set in the stunning Deçan Canyon.
The undisputed highlight and a real must for any visitor to Kosovo is the magnificent Visoki Dečani Monastery, set in the beautiful surrounds of the Deçan Canyon. The monastery is about 2km from Deçan Town, easily accessible by road. KFOR troops guarding the building will ask you for an ID card. A special highlight is the weekly evensong on Thursdays at 19.00 and the choral church service on Sundays at 08.00. If you can time your visit, it's an unforgettable experience to listen to traditional Orthodox chorals in this amazing setting.
A wall surrounds the monastery and as you enter the complex through an impressive gate, a spectacular view opens up in front of you. The church walls are built with carefully hewn blocks of red-purple and light-yellow marble, set against a beautifully composed monastic complex. Take a moment to enjoy this peaceful setting before entering the church itself and make sure to visit to the monastery gift shop just over to the right on your way out.