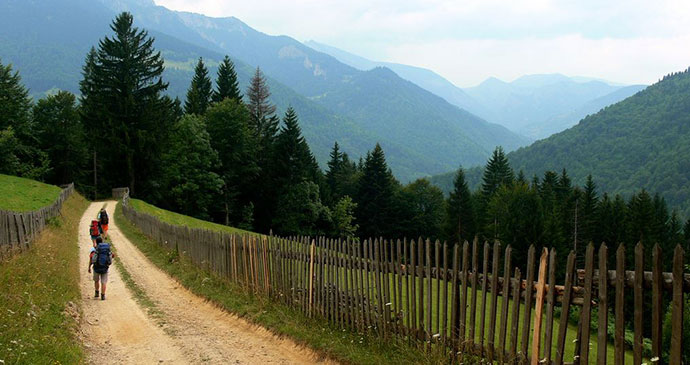 The Rugova Valley is home to lakes, waterfalls and hiking trails © Daniel Sevcik
Kosovo's established outdoor adventure capital, the Rugova Valley offers mountain biking, caving and hiking opportunities, plus a wonderful zip line.
The Rugova Valley is stunningly beautiful in all seasons and provides a wealth of sporting opportunities that are largely unexplored. With peaks of the Accursed Mountains (or Bjeshkët e Nemuna) rising up to 2,560m at Marjashi Peak, there is great potential for skiing, snowshoeing, paragliding, rock climbing and caving. Wonderful hiking opportunities abound (including crossborder), and in recent years, a lot of work has been done on marking trails along the Peaks of the Balkans and Via Dinarica, though it's still probably best to hire a guide to get the most out of your experience.
The Rugova region covers an area of 32,000ha, encompassing 13 villages at different altitudes between 1,000m and 2,000m above sea level. Far out of reach of the towns, these villages had always enjoyed a special tax status during the Ottoman era in return for maintaining the mountain roads. The narrow gorge along the Bistrica River continues for about 12km from the Patriarchate, then the valley opens up into beautiful mountain scenery stretching all the way to Montenegro. There are 30m-high waterfalls and two lakes at about 1,800m above sea level, and numerous, undiscovered caves dotted around the mountains. A few years ago, a via ferrata course was opened near the entrance of the gorge and then in 2016, the longest zip line in the Balkans was installed just across the way making Rugova a true hotspot for all levels of adventure seekers.