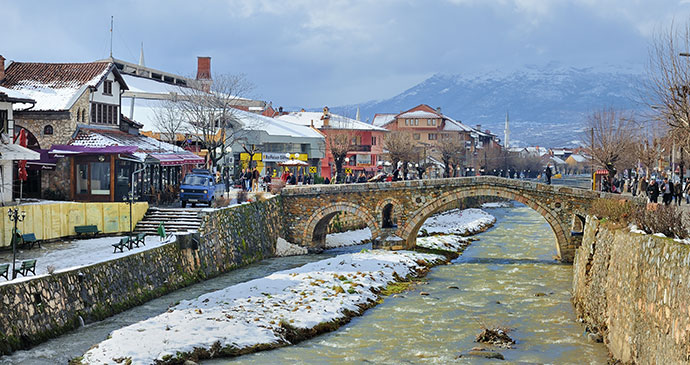 Prizren has been labelled Kosovo's prettiest city © Ivan S Abrams
Known as Kosovo's prettiest city, Prizren has some of the country's best-preserved Ottoman-era architecture and an imposing castle.
This is the jewel in the crown of Kosovo and a 'must-see' for any visitor. It has the highest number of preserved Ottoman buildings with their upper storeys jutting out into the narrow cobbled streets. Prizren has not only retained the architecture from the Ottoman era but also many other flavours of Turkey, with the language being widely used, and delicious Turkish food.
The town is close to the Albanian border, with mountains on two sides. It has good access to water, with the Bistrica/Lumbardhi River flowing fast through the town and a pleasant sheltered climate. From the castle/kalaja you get a fabulous view of Prizren and out to Pashtrik Mountain and Albania on one side, and if you make your way to the back of the castle there are also views towards Prevalac Mountain and the Lumbardhi River and Zhupa Valley, with the old, Dušangrad upper castle along the riverside about 3km away. The castle is currently undergoing a three-year, US$700,000 preservation project funded by the US embassy. Extensive restoration works are ongoing, with the future possibility of it becoming a managed, self-sustaining tourist attraction.