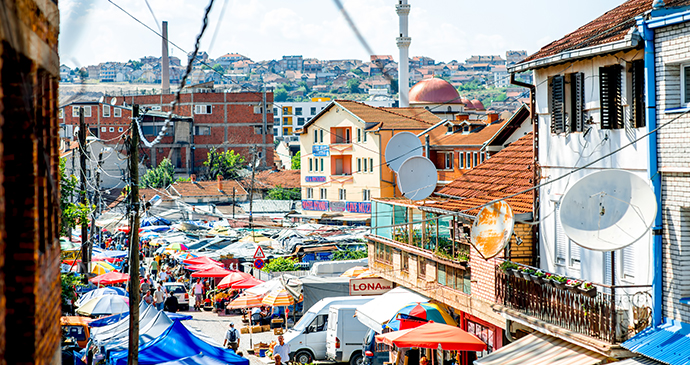 Prishtina's vibrant market © RossHelen, Shutterstock
As capital city of an independent state, Prishtina is starting to reassert a new urban identity.
Prishtina is not a city you fall in love with at first sight. It is messy, with centuries-old Ottoman heritage competing with communist designs and recently built architectural monstrosities. This humble-jumble of new and old, Ottoman and communist, innovative and traditional, gives Prishtina a unique urban feel. A century ago, Prishtina was a multi-cultural and vibrant trading town with a colourful bazaar at its centre and a population conversing fluently in Albanian, Turkish and Serbian. Mosques, Catholic and Orthodox churches adorned the city's skyline and a small Jewish community ran its own schools. The forceful transformation from an Ottoman trading town to a communist capital, from Yugoslav socialism to parallel Albanian self-rule and from Milošević to UNMIK rule has left many marks of destruction. Only now, as capital city of an independent state, is Prishtina starting to reassert a new urban identity.
Prishtina has always been a city in flux, with people coming and going. In different waves of migration Prishtina lost its Turkish-speaking urban elite, its Jewish and more recently its Serbian population. The arrival of thousands of international administrators, policemen, NATO soldiers and NGO activists from all corners of the world since 1999 has added a cosmopolitan flavour to the town. The city's sudden exposure to the outside has made it open for change, new cuisine and different ways of life. Today, Mexican, Nepalese and Japanese restaurants are vying for customers alongside the old qebaptore (kebab shops) and smoke-filled kafe qajtores (tea houses).
Prishtina is certainly no beauty, but there are many well-hidden secrets. The best thing about the city is the people you meet. A closer look with an open mind makes Prishtina a good place to explore and a fun place to live in.