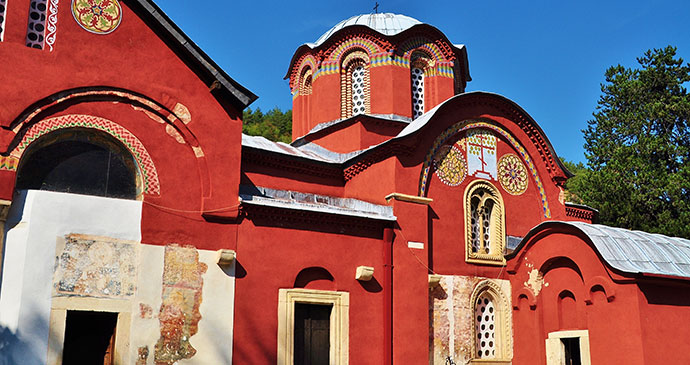 The monastic complex of Peć © o.jay photography, Shutterstock
The spiritual seat of the Serbian nation, this monastic complex has a striking crimson church ensemble.
Peć (Peja) is seen as the spiritual seat of the Serbian nation and the mausoleum of the Serbian archbishops and patriarchs. The monastic complex is surrounded by high stone walls protecting it from sight and against the elevated road leading into the Rugova Gorge. Set in this beautiful mountain scenery, with the sound of the Bistrica River in the background, it is easy to imagine why Serbian archbishops and patriarchs wanted to have their final resting place here. Only the occasional rumbling of a car winding up the Rugova road disturbs the peaceful atmosphere. There is parking just outside the monastic complex. The entrance is through a tall gate: to your left are the monastic living quarters and to the right you see the three-chapel construction of the Patriarchate.