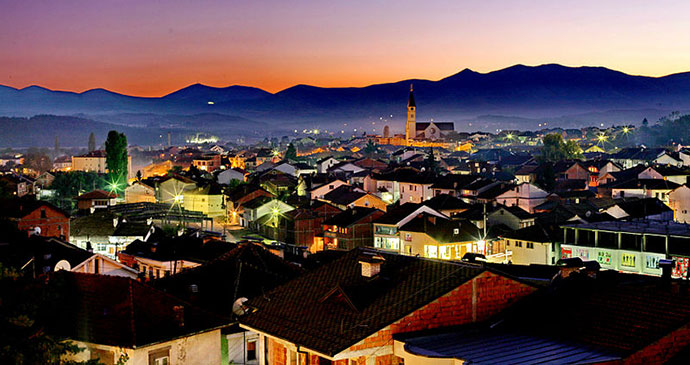 Explore Gjakova's restored market, mosque and bridges © ShkelzenRexh, Wikimedia Commons
One of the country's most historical towns, Gjakova is home to the largest bazaar in Kosovo, and is known for its traditional music and buzzing nightlife.
Gjakova lies almost equidistant between Prizren and Peja. Although many internationals never make it to Gjakova, it is really worth visiting for a half or full day, in particular because of the old restored market, mosque, Ethnographic Museum, madrasa, bridges and its history. There are also some of the best restaurants in Kosovo (it is particularly well known for its seasoned meat and lamb dishes) and has a much better-priced hotel selection than Prizren. Furthermore, it is second to Prishtina in terms of nightlife and famous for its traditional music. This means that if you are touring Kosovo there is a lot to be said for heading to Gjakova from Prishtina and using it as a base for one or two nights while visiting Peja, Isniq, Deçan, Prizren and the outlying villages, rather than switching hotels between cities. While you can wander round Gjakova on your own, like in Peja it may well be less frustrating and a better use of your time to pre-arrange a tour for the little extra it costs.