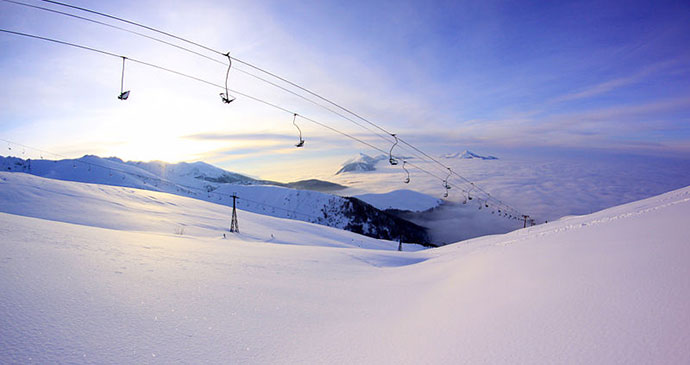 Brezovica is Kosovo's premier skiing destination © Snownjeri, Wikimedia Commons
Built as a backup for the 1984 Olympics, this centre still provides the best skiing in the country.
To ski in Brezovica you have to adjust your expectations as Brezovica really is like no other ski resort. Despite being a Serb area, lots of Albanians visit. Many do not have an interest in skiing, so they just come on a day trip, often scantily clad or in jeans, just to slide around the snow, take photos and hang around the restaurants. For them this is a special trip and they certainly seem to have a great day out.
A manager of a Western ski resort might suffer a heart attack at the absence of safety arrangements as the crowds congregate right on the pistes intermingled with sleds and teenagers shooting down the slope out of control on pieces of plastic. Furthermore, as if to create a target for the sledders and skiers rather like a skittle alley, the local vendors set up stalls of food, drink and beer right at the bottom of the piste next to the chairlifts. The operating slopes include one beginners' slope and one steep black/red run on the front of the double chair and a red on the backside. The pistes are neither marked, nor groomed. For all these reasons and the absence of snow patrols, helmets are a good idea and while there is great off-piste skiing to be had, small avalanches are not unheard of. Go with a friend and bear in mind that there is no real rescue service and limited health care. The lifts have to be switched to the generators if the power stops so don't rule out being suspended in mid air for short periods and wear appropriate clothes.
Prices are cheap, with day ski passes only €6. Weekend passes are also available. Beginners' and towbar lift passes can be bought for €1, and if you are a pedestrian but just want to ride the chairlift, it costs €2 for a round trip. To hire skis or board and boots costs €5–10 per day. There is a good choice of kit (both good-quality skis and snowboards) at several outlets (you must leave ID).