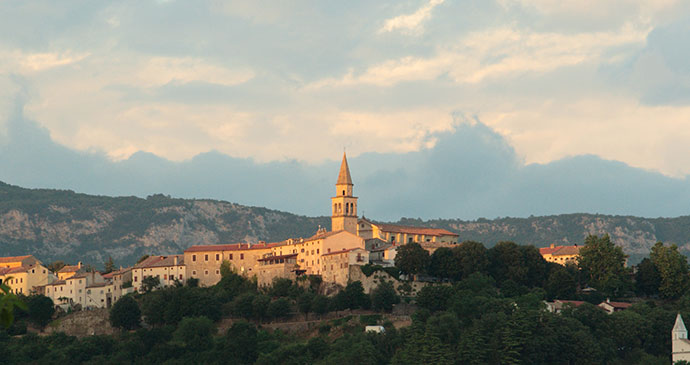 Buzet is one of interior Istria's hidden gems © mina, Shutterstock

Every year this 'City of Truffles' hosts the preparation of a giant omelette made of 2,000 eggs and 10kg of tartufi.
Perched on a hill and overlooking the truffle-rich Mirna Valley on one side and the forested slopes of the Ćićarija Mountains on the other, Buzet (Italian Pinguente) is, for one of the authors at least, the most rewarding of the Istrian hill towns – with colourful festivals, great hiking and biking opportunities in the surrounding hills and valleys, and a wealth of cultural interest in nearby towns and villages. There's even a good bus service to Rijeka and Zagreb. Nevertheless, Buzet receives much less attention and fewer visitors than Motovun and Grožnjan further west. Often called the 'City of Truffles', there are two big truffle events in its annual calendar, and Istria's favourite local beer, known appropriately enough as Favorit, is brewed here.