Climate
Iceland does not have the hellish climate that it's actually supposed to have. The country's name and Arctic latitude implies Siberia, Alaska and Greenland, but the reality is far warmer thanks to the wonder of thermohaline circulation. In simpler terms, the warm waters of the Caribbean Sea move across the Atlantic (ie: the Gulf Stream), then north across Britain and all the way up around Iceland (known as the Irminger Current).
The movement of this north Atlantic current explains why water temperatures in south Iceland are the same as those in southern England. The old adage that Iceland is green and Greenland is icy is very true: the Irminger Current ends just 50 miles west of Iceland and the temperature plunges about 10°C. Icelanders admit fatalistically that without the warm-water current, their country would be uninhabitable.
Fortunately, Iceland enjoys a temperate climate, which means it's not that bad but also not that great. In winter, things hover around freezing (the average January temperature is –1°C), and in summer, life gets a good deal warmer (the average July temperature is 15°C). Spring and autumn are quite moderate – the temperature stays within such a limited range that even Icelanders get a little bored with it. There is more variation in the hinterland – the coldest place in Iceland is up in the highlands, on the northwest side of Vatnajökull glacier. The coastline tends to be far warmer.
When to visit
You can visit Iceland at any time of year and have a wonderful time, but what kind of experience you have depends a lot on when you go. A trip to Iceland in July versus a trip to Iceland in December feels like two different countries. Summertime allows you the freedom to go almost anywhere in the country, to hike outdoors, to stay up all night, and to experience Iceland's tourist industry in its prime. Best of all is summer, when all the animals (especially birds) are out in full force, as well as all the flowers. The landscapes glow bright green and Iceland feels like an undiscovered Eden.
Come winter, everything in Iceland turns white, diverting your eyes to the bright wooden houses and the subtle changes in the sky. The weather may or may not be treacherous, but where you go and what you can do is more limited. You can, however, ride horses in the snow, ski and snowmobile, see the Northern Lights at their best, soak in hot springs whilst thumbing your nose at the cold, and experience Iceland at its iciest.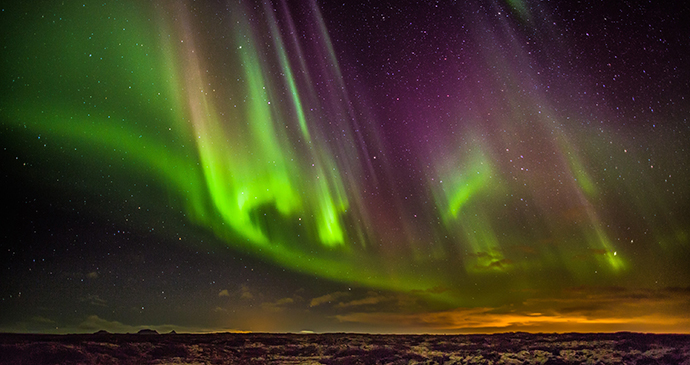 For travellers, the main difficulty is the way in which Iceland has developed into a seasonal destination. Hotels, restaurants, museums, airlines and tour operators try to cram all their profits into a six-week summertime blitz. That's why the summer is always booked solid and why everything costs twice as much. Don't buy into that mindset and you'll feel liberated. Rather, plan your trip based on what it is you want to do. If you want to hike glaciers, go early (April/May) or late (October) when the ice is firm and less prone to crevasses. If you want to see puffins en masse, then go in July; if you want to see their puffin chicks, then go in August. If you want to ride in the sheep round-up, go in mid-September. If you want to witness the Northern Lights, go in November; if you want to test the theory that limited daylight affects mood, then try late December, and if you want to conserve your cash, go in November or February. The wind blows all year round.
Calendar
January
Catch a glimpse of the northern lights
Many make the winter pilgrimage to Iceland to catch a glimpse of the aurora borealis. Created by solar storms, there's nothing quite like watching the northern lights dance across the sky in all their green glory.
March
DesignMarch, Reykjavík
Iceland's rich and unique design scene is celebrated in the annual DesignMarch festival, held at the Icelandic Museum of Design and Applied Art. Guests can check out everything from tanned fish-leather fashion accessories to inventive product design.
June
Iceland's national day
Iceland's national day (Þjóðhátiðargurinn) or independence holiday is on 17 June. Festivities normally include a big parade and picnics and a jubilant mood. People wear national dress and fly Icelandic flags – it's a great time to visit because these are the longest days of the year.
International Viking Festival, Hafnarfjörður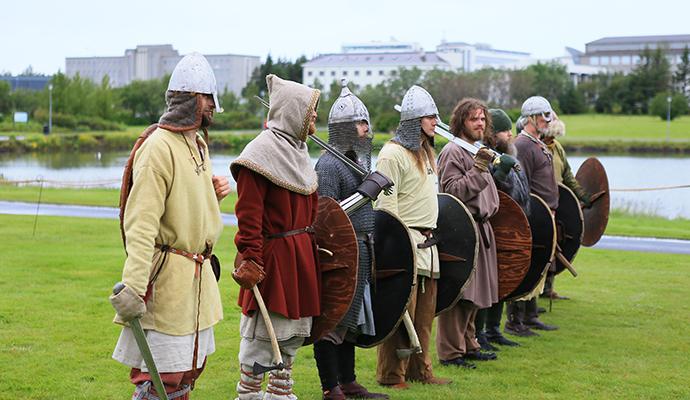 Typically held in mid-June, the festival focuses around an outdoor market, swordfights, music, dancing, and your usual Renaissance fair fare but with a Viking twist.
July
Hike the Laugavegur Trail
Take advantage of July and what is likely the best weather of the year for Iceland. Locals get their summerhouse keys ready and head out chasing the midnight sun. Do the same and embark on the Laugavegur Trail (Laugavegurinn) that will take you from hot springs to snow fields, glaciers, mountains and lava fields over four breath-taking days of trekking.
August
Jazz Festival, Reykjavík
Reykjavík's jazz scene goes way back to the very beginning and is known for its very eclectic expression and enthusiastic local following. More information about the annual festival can be found on its website.
Fiskidagur, Dalvík
In a heartfelt attempt to lure tourists up off the ring road, Dalvík hosts the annual Fiskidagur or 'fish day' festival in mid-August, which involves the townspeople stuffing you with copious amounts of seafood (for free). It's a delicious distraction.
September
The roundup
The roundup (réttir) takes place in the early autumn, between 1 and 30 September. After a summer of free grazing up in the highlands, the sheep are rounded up and chased back down to their respective farms.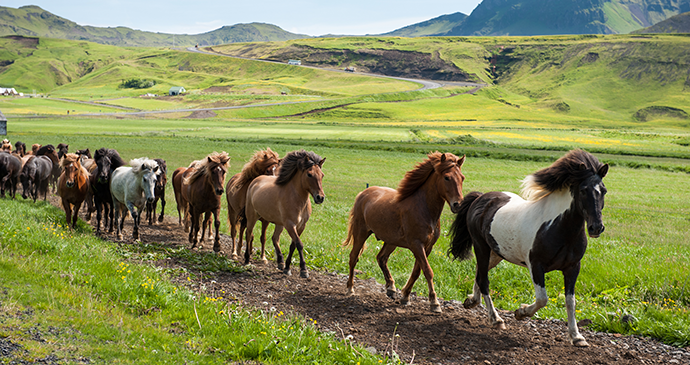 Icelanders show great skill on their horses, and it's a time of outdoor activities like camping and horseriding – those who can experience this annual event in person, should.
October
Remember John Lennon at Yoko Ono's Peace Memorial
Yoko Ono's peace tower, an installation that projects a beam of light into the sky is lit on John Lennon's birthday 9 October each year and turned off on 8 December, the day of his death.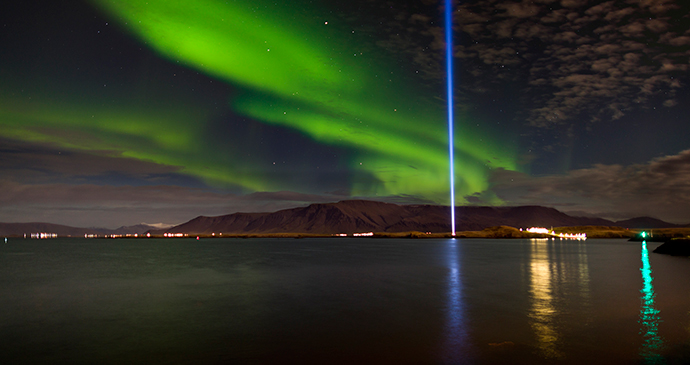 Yoko set up the tower on Videy Island in memory of her husband and his message of peace. She has said she chose Iceland because the island is regularly voted the most peaceful country in the world.
November
Iceland Airwaves, Reykjavík
Iceland Airwaves is the mega-huge, much-talked-about music festival that rocks Reykjavík every October/November. The hype is well deserved and if you happen to be around, you'll hear well-known international headliners play alongside Reykjavík's many bands, both crazy and sane. Iceland Airwaves has been attracting huge headline groups in recent years.
Christmas village, Reykjavík
The Christmas village picks up at the end of November and is open every weekend until Christmas Day. It's all about shopping and Santa Claus (and elves!), but with enough Icelandic flavour to make it credible.
December
New Year's Eve
New Year's Eve (Gamlárskvöld) is the party to end all parties: Icelanders light giant bonfires and then blow up all kinds of fireworks – even winter-dark Reykjavík lights up like a rocket.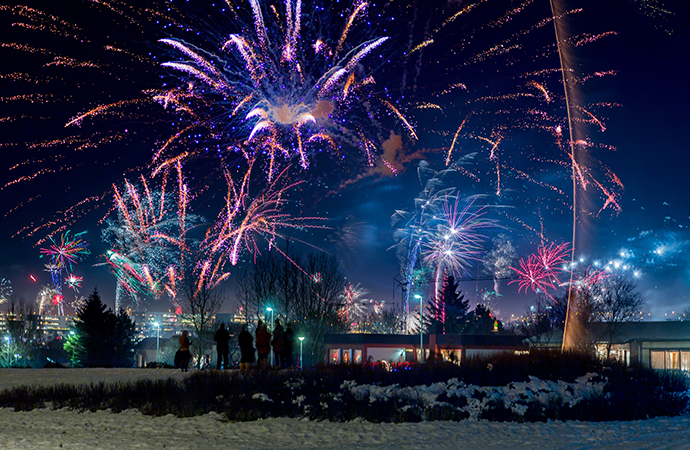 Traditionally, New Year's Eve has also been a time of magic, when humans could trick the hidden people into giving them gold.