Tokaj is all about grapes and glasses.
The statue of a naked Bacchanalian reveller in the centre is a prominent clue; a registered 'International Town of Vine and Wine', Tokaj is all about grapes and glasses. It is 'capital' of the Tokaj-Hegyalja (Tokaj Foothills) region, where the country's most-lauded wine is produced.
The quality nose-dived with the mass production typical of the socialist market economy, but since 1991 private estates have re-emerged in place of the massive state-owned factories. Tokaj is just one of almost 30 wine towns in the area; it's pretty enough, but wine is the religion here, and teetotallers will find little else to occupy their time.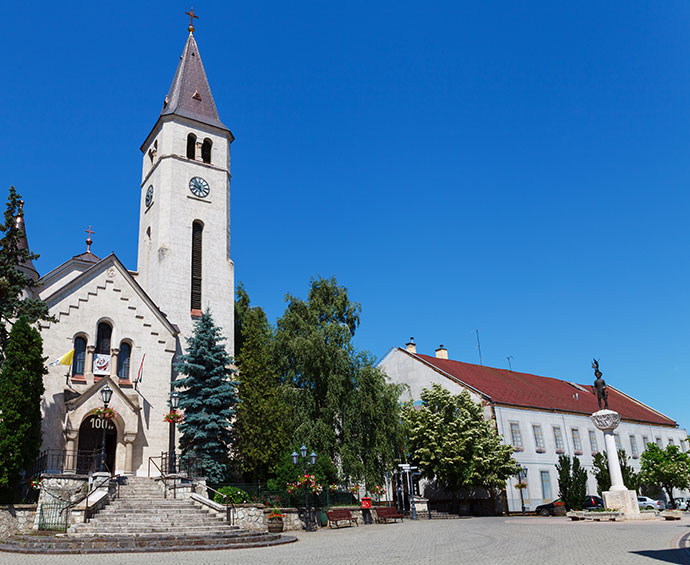 Winning wines
What should you plump for with dinner? Aged in networks of mouldclad cellars, Tokaji Aszú is long-lived and nectar sweet, with a volcanic mineral edge. It was favoured by Europe's royal houses, and Louis XIV declared it 'the king of wines, the wine of kings' – which must have had the marketing people gleefully rubbing their hands.
Queen Victoria was presented each birthday with 12 bottles to mark each year of her life, receiving over 900 at the last count. It suffered under the state economy, but is back to its freshest and fruitiest.
Aszú is created from grapes affected by noble rot, and the number of hods (puttonyos) of such grapes added to a dry base wine determines the wine's sweetness.
Most is produced at levels of between three and six puttonyos, with Aszú Esszencia sweeter still. Top recent vintages were 1996, 2000, 2002 and 2006, while those of 1993 and 1999 are judged to be classics. Dry Tokaji wines are also available – look out for those of 2000 and 2002 – but more readily acclaimed are the light and young-drinking whites from Lake Balaton (especially the Olaszrizling of Badacsony).
If you fancy something bubbly, the country's main sparkling wine (pezsgő) is the relatively inexpensive Törley champagne. It's produced by Hungary's largest wine company, Hungarovin, and compares favourably with versions from New World countries. Bull's Blood (Bikavér) derives its name from the period of Turkish occupation; the sober Ottomans thought that their opponents were made brave by consuming flagons of animal blood, when the Hungarians were actually more sensibly seeking Dutch courage in flagons of red wine.
Moves are under way to protect Bull's Blood, which became synonymous with a Hungarian product ruined by commercialism, but its definition remains loose – simply encompassing 'quality' blended red wine from Szekszárd or Eger. One problem is that large companies continue to cling to its potential as a brand, looking enviously at the success of Australian Rosemount or Jacob's Creek.
A leading firm even attempted to spark success by replacing its bull's head logo with a rather Spanish-looking matador. Stick to bottles from small producers who take time over the product rather than the branding and you'll find some excellent wines. Alternatively, reds from Villány are expressive, full-bodied and rightly rated.