The sun smiles on Szentendre, and artists are attracted like moths to its favourable light.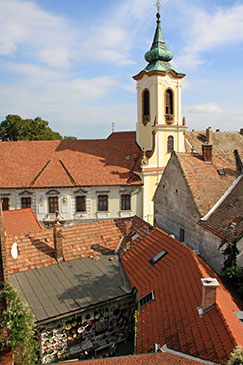 Szentendre (St Andrew), bustling and touristy, is the first town of the Danube Bend, 19km north of Budapest. There was an influx of Serb refugees fleeing the Turks in the 14th century and, after depopulation during the occupation, another surge during the 17th century when Hungary was freed of Ottoman shackles but fighting still raged in the Balkans. Wooden buildings were replaced with stone ones, and Szentendre became the ecclesiastical centre for the diaspora Serb Orthodox Church; four remain of the several temples they built during their time here, each named after the region from which their congregation originated. The citizens were farmers and vintners, but many left after phylloxera and floods hit the area in the 19th century, and those who stayed replaced the vines with fruit orchards. Only a dozen or so Serbian families remain now, but the cosmopolitan legacy is reinforced by the modern flood of visitors from the capital.
(Photo: Szentendre's arcthitecture reflects the influx of Serbian refugees who fled here in the 14th century © yuri4u80, Shutterstock)
The sun smiles on Szentendre, and artists are attracted like moths to its favourable light. In the 1920s an artists' colony was established, and many continue to paint the town red. You can admire their handiwork in the seeming myriad of galleries, many ensconced in beautiful old town houses. Szentendre's virtues give rise to its faults: you'll barely scratch the rich surface of the art on a day trip, you'll need to jostle with many others in the museums during summer months, and the cheerfully coloured buildings are too often occupied by fleecers, whose tat laminates rather than celebrates Hungarian culture. However, such qualms aside, there are few livelier places beyond the capital to enjoy the national artistic output, go shopping or stroll along winding alleys and the Danube banks.