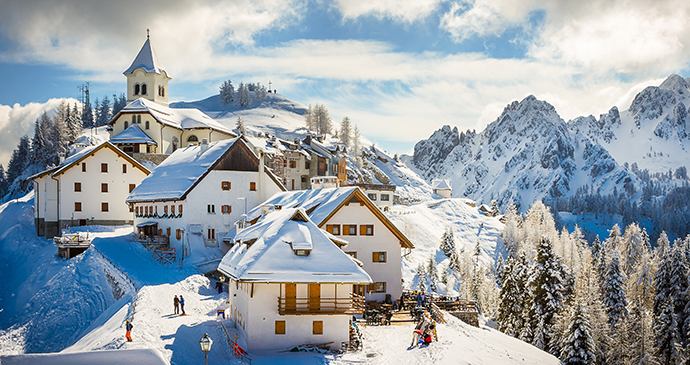 Tarvisio is FVG's premier winter sports resort © Alfio Finocchiaro, Shutterstock
This sunny base offers the full range of summer and winter sports in the Julian Alps.
Up in Italy's northeast corner, Tarvisio in its narrow mountain bowl is the resort queen of the Valcanale – the only valley in Europe, they say, where four languages are spoken (Italian, Friulano, German and Slovenian). In 1007, Emperor Saint Henry II gave the town and the Valcanale – and its valuable mines and timber – to the Bishop of Bamberg. In 1758, he sold Tarvisio to the Empress Maria Theresa, and it remained part of Carinthia until it passed to Italy in 1918.
Tarvisio stands at the centre of the Foresta di Tarvisio, one of the largest forests in Italy. It's beautiful country, perfect for every sort of mountain activity, and Tarvisio itself, in an open, sunny corner of the valley, makes a perfect base. In the centre you'll see a bust of Cajetan Schnablegger, no less than the founder of tourism in these parts. Schnablegger was the heir to the zinc mines. In the 1880s he opened the first hotels and a spa here – and printed Friuli's first tourist brochures.