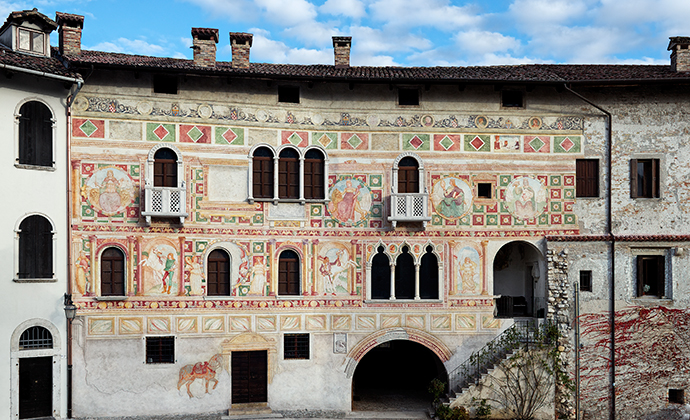 Full-blown Renaissance marvels are common in Spilimbergo © FotoCiel, PTFVG
This charming medieval town of painted palazzi boasts a great cathedral, with a world-renowned mosaic school to boot.
Pordenone and other towns have their bits of colourful outdoor fresco, but Spilimbergo is the real painted lady of Friuli. A score of Renaissance painted palazzi help make its city centre one of the most delightful in the region, with a surprise around every corner. Spilimbergo has several other feathers in its cap: handsome medieval architecture, excellent places to eat, a famous school of mosaics and a Saturday market that brings in everyone from around the surrounding countryside.
The town goes back to Roman times, but it takes its name from the Spengenbergs of Carinthia, the future Counts of Spilimbergo, who arrived in the 11th century and set up shop on an easy ford across the Tagliamento, where they could easily tax merchandise. They became ministriales (officials) of the Patriarch of Aquileia, but often rebelled against him, notably during the feudal conflict of 1350. A walled town, the Borgo Vecchio, grew up around the castle, then expanded over the centuries to include new borghi, including Valbruna, where workers lived in little lanes and inner courtyards.