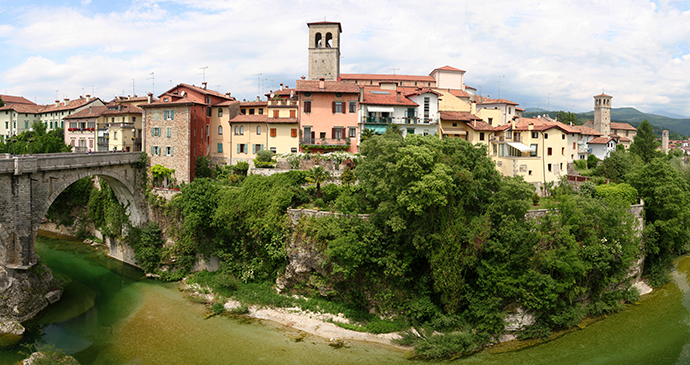 Cividale overlooks the Natisone river © JRP Studio, Shutterstock
Once the seat of a Lombard duchy, Cividale is full of fascinating and beautiful art from the Dark Ages.
East of Udine, Cividale del Friuli is a jewel with an impressive pedigree. Julius Caesar founded it in 50BC and named it Forum Iulii after his family – a name that was condensed over the centuries into 'Friuli'. But it was the Lombards who followed and left Cividale the remarkable relics given World Heritage status in 2011. It isn't the best location. Cividale's wealth of art and culture has been rocked by earthquakes many times, most recently in the great quake of 1976. Some of the damage from that one is still being repaired.
The centre of Cividale is a series of squares that mark the ancient forum. The most important, Piazza Duomo, is the site of the lively Saturday morning market, under the eyes of a bronze statue of founding father Julius Caesar (1935, a copy of a Roman marble). This stands in front of the picturesque Palazzo Comunale, built in the 13th century over the ruins of a Roman house (now in the courtyard). Its façade is emblazoned with a Lion of St Mark and bust of Domenico Mocenigo, the Venetian Provveditore remembered for his good work during the plague of 1682.