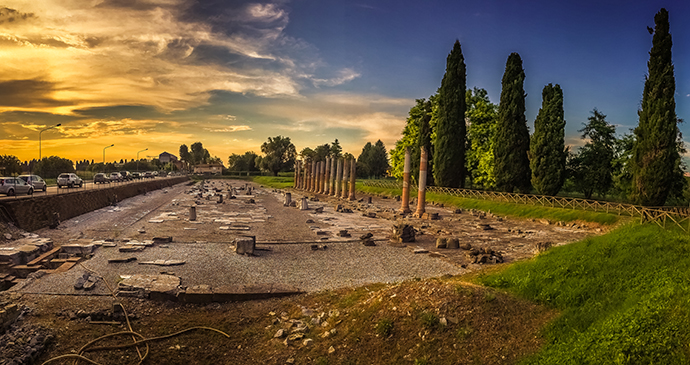 Aquileia is home to some of Italy's most important Roman ruins © Lytd11, Shutterstock
Once a Roman and early Christian metropolis, this is now one of the chief archaeological sites of northern Italy.
Amid the farms and gardens of this very green part of Friuli, you'll come to a tiny town that was once the fourth largest city in Italy, with a population of 100,000. Aquileia is unique in that it was the only great Roman-era city in Italy to shrink into a village; all the others not buried in volcanic mud evolved into modern towns or cities. Though a tiny town, it is an exceedingly handsome one, with scores of stately cypresses, and bits of antique sculpture set into its walls. Today Aquileia's 3,500 inhabitants no longer receive emperors, but build yachts (Solaris shipyards are here) and tend to their vineyards and the tourists who flock to see the most important Roman archaeological site in northeast Italy – a UNESCO World Heritage Site since 1998.