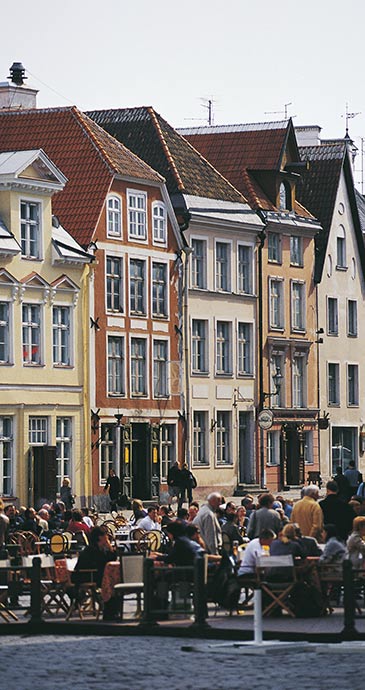 Eating and drinking
Accommodation
Eating and drinking
The cost of eating out in Tallinn leapt in 2007–08 but then dropped rapidly during 2009 and 2010. It has increased slowly since then, but the introduction of the euro in 2011 did not have the inflationary effect that some of its opponents feared. Be very careful when ordering wine not to overpay and if the restaurant has house wine at say €20, stick to beer which will always be good value.
Restaurant opening times
Tallinn restaurants usually open at 12.00 and close around 23.00, staying open through the afternoon. Cafés open at 10.00 since Estonians do not breakfast out and, as it is included in hotel room prices, there is no incentive for tourists to find it elsewhere. Cafés close around 18.00, except for those that become bars in the evening, when they will stay open until midnight at least. Opening hours are similar elsewhere in Estonia, although sometimes smaller restaurants may operate reduced hours.
(Photo: People enjoying a meal at a café in Tallinn © Visit Estonia)

Accommodation
Tallinn now has a wide range of hotels from two- to four-star and is beginning to offer bed and breakfast and hostel accommodation as well. Tourists staying in hotels will normally book these through tour operators before they arrive but details of hostel and bed and breakfast accommodation can be obtained from the tourist board office near Town Hall Square in Tallinn, although it keeps office hours so cannot help visitors who arrive in the evening. There are also no facilities for booking hotels at the airport, bus station or harbour.
Pärnu and Kuressaare also have a wide range of hotels but the choice is much more limited in other centres such as Haapsalu, Tartu and Viljandi. Several small towns such as Otepää, Paide and Rakvere have a good choice of three-star hotels and this standard is being developed in the national parks. The northeast has seen great hotel development since around 2006 so it is now possible to stay comfortably in Narva and Sillamäe, which was previously not the case. There are also a number of manor houses, such as Vihula in Lahemaa National Park, that are opening up as hotels and conference centres.
Farmhouse accommodation is rarely sold to foreigners as access requires a car and few families speak any language apart from Estonian and Russian. Bed and breakfast is just beginning in Tallinn.
Three- and four-star hotels charge rather less than similar hotels in western Europe and two-star hotels are much cheaper. In the higher categories in Tallinn, rooms tend to cost L50–80/US$80–130 a night for a twin; about L10/US$15 less in Pärnu. Two-star hotels in the capital charge about L25/US$40 for a twin and elsewhere charges rarely exceed L15–20/US$25–35. Rates always include a buffet breakfast. There are few hostels outside Tallinn as the two-star hotels that exist in even the smallest towns cater for this market. As many two-star hotels are renovated into three-star ones, they tend to be replaced by more basic hostels, which are installing en suite facilities to warrant a two-star description.
Farmhouse accommodation is rarely sold to foreigners as access requires a car and few families speak any language apart from Estonian and Russian. Bed and breakfast is beginning in Tallinn but, given the cramped accommodation most Estonians have to accept, few families have spare rooms to let in this way. Camping has never been particularly popular in Estonia as many town dwellers have tiny country cottages to which they can retreat most weekends. The possibility of sudden storms also reduces the chance of an enjoyable stay. Sites are, however, now being established beside Lake Peipsi on the Russian border and at Lake Vagula at Voru. Others will soon be available at Viljandi and in Lahemaa National Park. The websites of the local tourist boards should have up-to-date details; otherwise they can be emailed for this information.
The Estonian spelling of hotel is hotell. In email and website addresses, some will use the Estonian spelling and some the English one. There is a similar situation with museums as the Estonian spelling is muuseum.