January
Have a late Christmas
The Russians celebrate Christmas two weeks later than we do, so join them when they flee St Petersburg to a still-decorated Tallinn for glühwein and excessive quantities of carp. Don't forget to wish them Happy New Year a week later, just before the local Scottish community offers its Burns Night supper.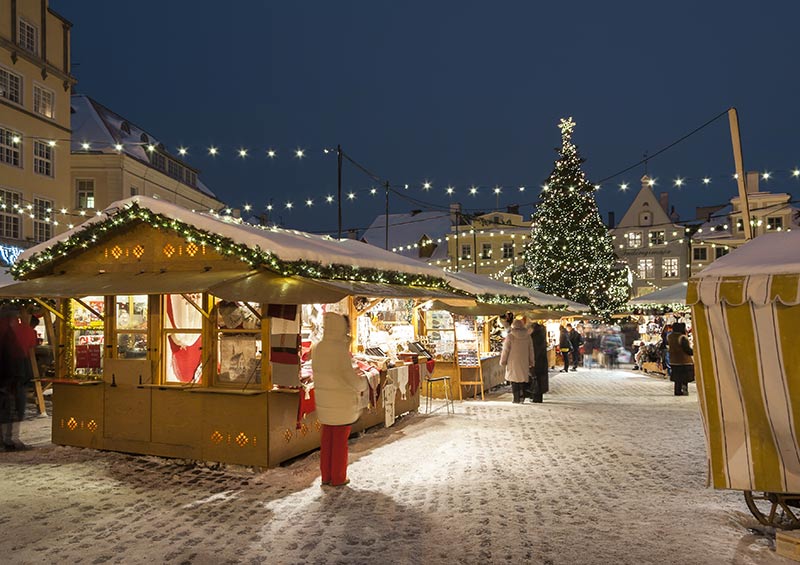 Stalls at the lively Christmas Market in Tallinn's Old Town © Risto0, Shutterstock
February
Be a gentle skier
Get to Otepää, Estonia's skiing centre and join 10,000 others for the 63km cross-country ski marathon to Elva. For wimps, there is a shorter 31km route. No need to take it too seriously. Most people manage the whole course, and are not half-dead as a result.
March
Drive across the Baltic Sea
In mid-winter, traffic speeds up in Western Estonia as temperatures drop to -20°C. When the ice on the sea becomes sufficiently thick, it is possible to drive to most of Estonia's islands. Roads are marked and checked daily by inspectors. Seat-belts are forbidden and so is overtaking. Accidents are far fewer than on land.
April
The jazz world comes to Tallinn
Jazzkaar, the annual festival that takes place in Tallinn, is one of many in the music world which shows how much above its weight Estonia is able to punch. Come to this festival and you will hear anyone and any piece that matters in the contemporary scene.
May
Theatre in a suitcase?
Why not, given that all the actors are puppets and many of the performances take place on the street. You are just as likely to find one happening in the morning as in the evening, and Viljandi has hosted this since the 1990s. Don't return home when the evening has finished, then go and share your ideas at the Good Thoughts Club.
June
The never-ending day
On June 23, Estonians celebrate mid-summer. They flee the towns for the countryside so that they can safely light bonfires and stay out until dawn, assuming that on June 23 it is possible to tell dawn from dusk. Forget the last bus home and consider the first one next day!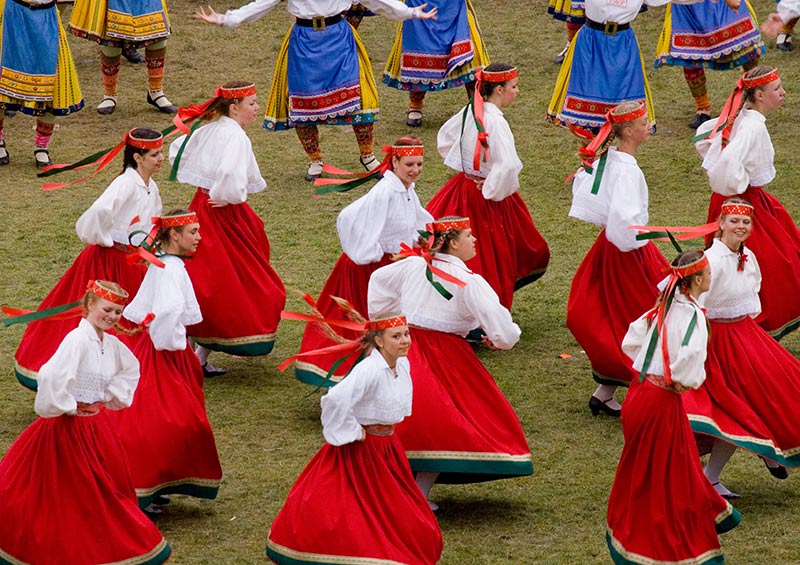 Summer is a great time catch one of Estonia's many festivals; pictured: traditional Estonia dancers © Visit Estonia
July
Not one church organ, but five
Saaaremaa, Estonia's largest island, may only have a population of 40,000, but its talent with church organs, displayed publicly each year in early July, attracts attention from all around the Baltic Sea. Real music aficionados then stay of for the Opera Festival and perhaps for the Chamber Music one too.
August
Endless beaches
Being a flat country of only 1.3 million has its advantages: the roads to the beaches have room for all, as do the beaches themselves. There are no tides and the water is shallow, so quickly warms up to reflect the brief Estonian summer. If the sea is not enough, there are plenty of beaches too around all Estonia's lakes.
September
Revel in the sacred
In many European countries, it is pop singers or footballers who became known abroad. Only in Estonia could it be a composer of sacred music. Arvo Pärt Days celebrate the man forced to leave Soviet Estonia in the 1970s but who is now happily back home as a modest national icon.
October
In Russia? Not quite. In Narva
The river at Narva divides Estonia from Russia and is now an EU and NATO border as well. Come to the castle to see re-enactments of all the battles fought here, particularly those fought in the autumn between the Swedish and Russian Empires, each determined to win before the onslaught of winter.
November
PÖFF
These four letters are well known to cinema buffs. As the days get shorter, the two weeks of the Black Nights Film Festival provide compensation in both Tallinn and in Tartu. Serious films or flippant ones, animation for children or documentaries for seniors – they are all covered.
December
Balmoral in Estonia?
There's nothing wrong with the Tallinn Christmas market but Estonians much prefer to do their shopping at Alatskivi, the late 19th century castle near Lake Peipsi, whose architect was so bowled over at the sight of Balmoral that he decided to copy it. No problems with authenticity here: everything is 100% Estonian.