Take a dip in one of Italy's most pristine rivers.
'Today I have gone through the most beautiful valley in the world,' wrote war correspondent Ernest Hemingway in 1915, after driving through the Trebbia Valley, where the wild meandering river has carved verdant hills into odd-shaped cliffs and bowls.
The Trebbia's sparkling turquoise waters are among the cleanest in Italy, perfect for a swim. Castles, one of Italy's most offbeat museums and lovely places to stay dot the valley all the way up to Bobbio.
Museo della Merda
Founded in 2015, the 'Shit Museum' is the brainchild of Gianantonio Locatelli, owner of a dairy farm producing Grano Padano cheese – and 100,000kg of manure every day.
The tour takes in the farm's ecological biomechanical works and the nearby methane-heated castle, featuring poop-inspired exhibitions including bioluminescent installations, dung beetles (the symbol of the museum) and art and household items made from 'Merdacotta', Castelbosco's answer to terracotta, which are also on sale in the museum's Shit Shop.
Castello di Rivalta
In a bucolic grove overlooking the Trebbia, this castle built by the Landi goes back to the 11th century, although the whole presents a stately Renaissance aspect; its round tower was built by an architect named Solari, who also designed parts of the Kremlin.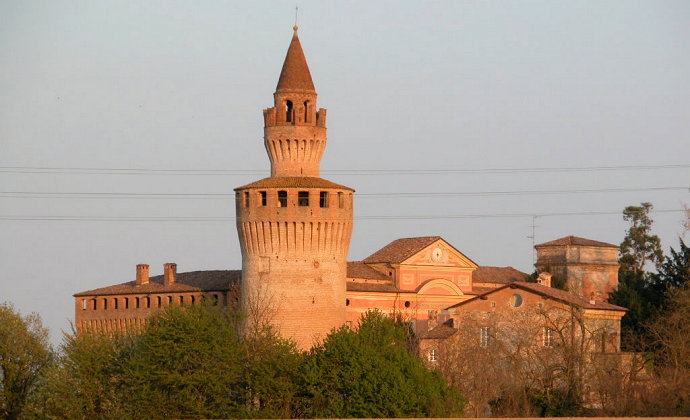 Inside are period furnishings, frescoes of country life, and a room of armour with three battle flags that were carried by the Christians at Lepanto in 1571. When the castle is very busy, there's a mischievous ghost of a cook named Giuseppe who likes to turn lights off and on, close doors and move the furniture around; Princess Margaret, who spent ten summers here, met him at least once.
Rocca and Castello di Agazzano
This stronghold was begun in 1200, and mostly dates from the late 15th century. A cushier, U-shaped palace was added on the side in the 1700s, and a large French garden was planted between the two abodes. There are period furnishings and frescoed rooms to see; the cellar is full of the family's Le Torricelle wine. The grounds of Agazzano's other castle, La Bastardina, have been converted into a golf course.
Rocca d'Olgisio
Extending over a steep ridge east of Agazzano, this picturesque fortress enclosed in six walls goes back to at least 1037. Gian Galeazzo Visconti gave it to the condottiere Jacopo Del Verme, and it stayed in the family until the mid 19th century, after which all its furnishings were lost. The tour takes in a 16th-century loggia, walls and gardens; trails, some challenging, go to the odd-shaped grottoes underneath.
Villaggio Neolitico di Travo
This Neolithic village was excavated in the 1990s. Several huts have been reconstructed, and a museum with finds is a 10-minute walk away in Piazza Trento.