Sunbathe and dance the night away, but don't miss Rimini's enigmatic Renaissance jewel: the Malatesta Temple.
Seen by the aliens from their spaceships, the Adriatic Riviera must be one of the most unusual and enticing sights of Europe. Welcome to 'Linear City' – 70km long and a few blocks deep, a mass of compacted (and mostly quite attractive) urbanity, with the SS16 and the Ravenna–Pesaro rail line on one side and a solid line of beach on the other.
It's the place where Italians come because their grandparents did, where Germans come to look for Italians, the British come to fill shopping trolleys with gin, and Russians finally get a chance to wear their designer sunglasses. On any given night in August, more than 100,000 of them will be sitting down to tagliatelle al ragù in their hotels and thinking that life is pretty damn sweet.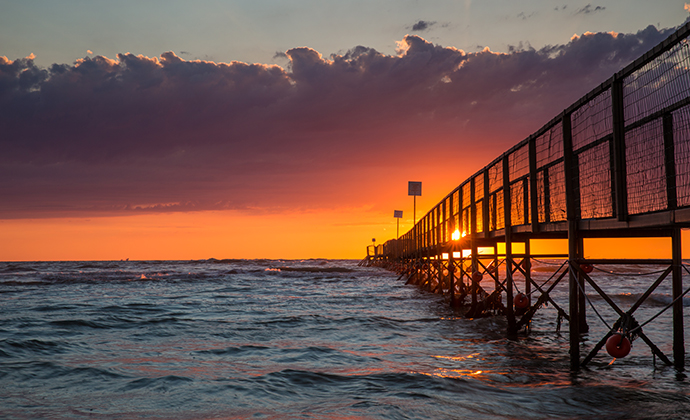 There's no place like it. And right in the middle is the surprising city of Rimini, home of one of the most beguiling monuments of the Renaissance and a vortex for weirdness of all kinds, from genuine haunted castles to hallucinogenically kitschy roadside attractions and the sovereign, independent Republic of San Marino.
At first glance Italy's biggest resort may strike you as strictly cold potatoes, a full 15km of peeling skin and gelato, 10,000 selfie-taking teenagers with eternally whining, giggling little brothers and sisters. To many Italians, however, Rimini means pure sweaty-palmed excitement.
In the 1960s, following the grand old Italian pastime of caccia alle svedesi, a staple of the national film industry was the Rimini holiday seduction movie, in which a bumbling protagonist with glasses was swept off his feet by some incredible Nordic goddess, who was as bouncy as she was adventurous.
After many complications, embarrassing both for the audience and the actors, it could all lead to true love. For the bumbling protagonists of real life, all this may only be wishful thinking but they still come in their millions each year to 'the Beach of Europe'. As a resort Rimini has its advantages. Noisy as it is, it's a respectable, family place, relatively cheap, convenient and well organised, with the best nightlife in the north, if not all Italy.
Also, tucked away behind the beachfront is a genuine old city, with a four-star Renaissance attraction.