Immerse yourself in glittering green-gold beauty, with the greatest collection of Byzantine mosaics anywhere.
Tucked away among the art towns of Emilia-Romagna there is one famous city that has nothing to do with Renaissance popes and potentates, Guelphs or Ghibellines, sports cars or socialists. Little, in fact, has been heard from Ravenna in the last thousand years.
Before then, however, this little city's career was simply astounding – heir to Rome itself, and for a time the leading city of Western Europe. For anyone interested in Italy's shadowy progress through the Dark Ages, this is the place to visit.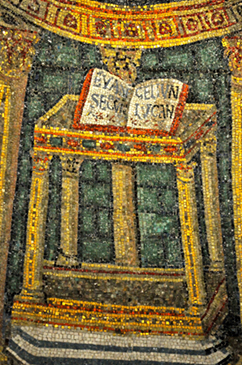 There's a certain magic in three-digit years. History guards their secrets closely, giving us only occasional glimpses of battling barbarians, careful monks 'keeping alive the flame of knowledge' and local Byzantine dukes and counts doing their best to hold things together.
In Italy, the Dark Ages were never quite so dark, never the vacuum most people think. This can be seen in Rome, but much more clearly here, in the only Italian city that not only survived but prospered through those troubled times.
In Ravenna's churches, adorned with the finest mosaics ever made, such an interruption as the Dark Ages seems to disappear, and you experience the development of Italian history and art from ancient to medieval times as a continuous and logical process.
Imagining Ravenna in its golden age takes some effort. It was Venice before Venice was invented, an urban island in a lagoon with canals for streets. Imperial processions through them must have been stunning. Unlike Venice, it was connected to the mainland by causeways. It contained a mixed population of Italians and Greeks, and its greatest ruler was an illiterate German warrior – the history is somewhat complex.
The advancing delta of the many small rivers that pour down from the Apennines gradually dried out all Ravenna's magic, at least on the outside, but step inside the city's ancient monuments, including eight sites on UNESCO's World Heritage list, and you'll see things you can't see anywhere else in the world.