Bring a zoom lens for the flamingos at one of Italy's most important wetlands, and for the medieval art in majestic Pomposa Abbey.
The main attractions along the coast from Mesola to Ravenna are the Po Delta and the magnificent Romanesque Abbey of Pomposa, though there are plenty of Italian family lidos in the vicinity if you're tempted to join the summer ice cream, pizza and parasol brigades.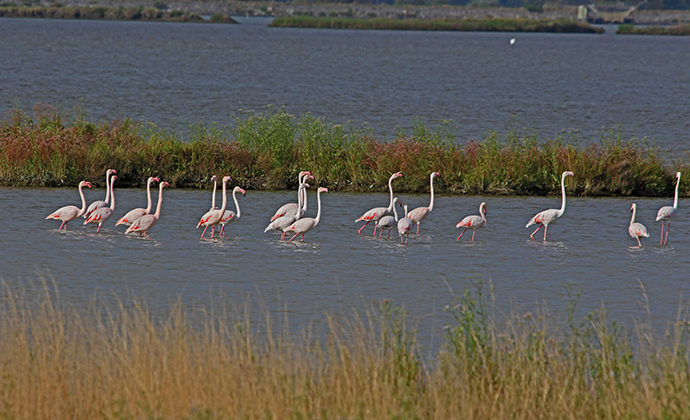 Duke Alfonso II was the first, at least in modern times, to start draining the marshes south of the Po Delta. Much of the land was planted with rice; a large part of the rest now belongs to the Parco del Delta del Po, one of Italy's most important wetlands and a birdwatcher's paradise, especially in the spring and autumn migrations: prominent among the 200 species sighted here are flamingos, coots, grebes, herons, a vast assortment of ducks, black-winged stilts, and owls in the wooded sections, along with that most overdressed of sea birds, the cavaliere d'Italia.
The white Camargue horse has also been introduced. The 54,000ha Parco Regionale Delta del Po, Emilia-Romagna's largest park, is scattered along the coast south of the Po to the salt pans of Cervia. Parasol pine woods dot the coast from Ravenna to Cervia; at Bosco della Mesola you can visit a patch of the forest that once covered the entire Po plain, and close to Ravenna, the Oasi di Punte Alberete is the last surviving example of the flooded forests that once covered the delta.