Puzzle over the enigmas of the Camera di Correggio, painted by the city's master of lightness and grace.
One of Italy's great art cities, and the second city in Emilia-Romagna after Bologna, Parma's many admirers cite her splendid churches and elegant lanes, her artworks and antiquities, the lyrical strains of grand opera that waft from her Teatro Regio – a house that honed the talents of the young Arturo Toscanini – and the glories of its famous cheese and ham at table as reasons not only to visit, but to return again and again.
Even the air in Parma is lighter and less muggy in the summer than that in other cities near the Po. There are plenty of castles in the countryside, and opera lovers can trace the career of Giuseppe Verdi around his home town of Busseto.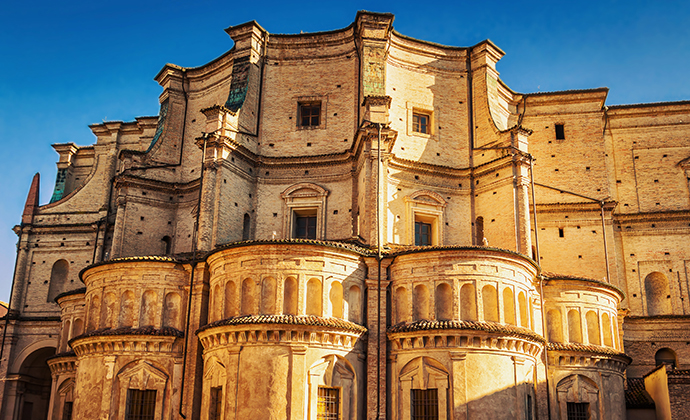 The French daily Le Monde once rated Parma as the best Italian city to live in, for its prosperity and quality of life. It would, of course, since Parma is also the Italian city most influenced by French culture, thanks to a remarkable episode in the 18th century when the city filled up with Enlightenment French artists and philosophes, followed by a booster shot of Gallicism when it came under the rule of Napoleon's forsaken Empress, Marie-Louise.
Quality of life Parma has in abundance. You'll eat well here, even by Emilia-Romagna standards, in Italy's first UNESCO Creative City of Gastronomy.
But there's more to Parma than food. It's the place to see the masterpieces of Benedetto Antelami (active 1177–1233), the great sculptor trained in Provence whose baptistry here introduced the Italians to the idea of a building as a unified work in its architecture and sculptural programme.
Parma's distinctive school of art began relatively late, with the arrival of Antonio Allegri, called Correggio (1494–1534), whose highly personal and self-taught techniques of sfumato and sensuous subtlety deeply influenced his many followers, most notably Francesco Mazzola, better known as Parmigianino.
No town its size is more devoted to theatre and music, and none is more tolerant (or indifferent) to its perennially underachieving football team, a bottom-feeder that recently went bankrupt and has now fought its way back to Serie B. But just how French is Parma? You can mull that over while munching a crepe, still a popular item in many Parma restaurants and street stands.