Go vroom! in an F1 simulator at one of the highlights of 'Motor Valley'.
There are two Ferrari museums. One is in Modena, the other by the factory in suburban Maranello. A dedicated shuttle connects the two, with a stop at the Modena train station.
Museo Enzo Ferrari
Enzo Ferrari (1898–1988) loved his native Modena enough to put the city's yellow on his badge, behind the prancing pony, and Modena loves Ferrari right back. Opened in 2012, this museum pays homage to his life and times.
The house where Enzo was born, next to the workshop where his father worked on rail carriages, has been restored to house the Museo dei Motori, with various engines on display from a small two-cylinder model to F1, along with a collection of race cars and videos.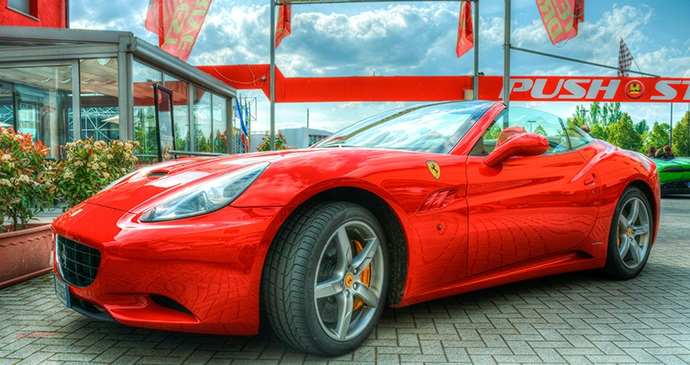 Next to it rises the curving glass facade of a slick, ultra-contemporary hall in the shape of a yellow Ferrari bonnet (big enough to get in the faces of workers in the nearby Maserati factory).
Films cover Enzo's long, colourful life (he died at age 90, still working on the blueprints of his next car). There are changing exhibits, which not surprisingly focus on cars, set up on white plinths. There are even three different sized Ferrari-shaped kennels where you can leave your pooch for free while you visit the museum.
Museo Ferrari Maranello
The older of the two museums was set up at the factory and testing track in Maranello: there are historic cars, F1 trophies and exhibits and films on the marque's history, which boasts no fewer than 5,000 race victories around the world since 1940.
There's a 'pit stop' and tyre change to recreate just what goes on there during a race, and F1 simulators for young and old. Tours of the Ferrari factory and the Fiorano Test Track can be booked in advance via the website.
Enzo Ferrari, who had his start building tractors on his father's farm outside Modena, moved out to this village during war production in 1943, and promptly got bombed flat by the Allies.
Since the rebuilding, Maranello has been Ferrari City, the place where people throughout the town hear the buzz of the cars on the testing track and, as the town's tourist bumph puts it, 'listen for a false sound in the engine, as if it were a wrong note at the opera'. In fact, one division in the factory is dedicated to perfecting the precise sound of the engine. Each model has its very own tune.
It's a strange little world: high tech, but at the same time an anachronistic stronghold of Renaissance-style Italian luxury craftsmanship. The town of Maranello also has an Enzo Ferrari Park, and a statue of the founder, 6m tall, unveiled for the centenary of his birth in 1998.